This recounting of the cruise will be especially long and self-indulgent. Proceed at your own peril.



We left SungWon's in the dead of night, without our luggage and also Wilco loaded into a rental car. Sarah was ecstatic to be driving again, even if she is a manual transmission snob now. Our first order of business was to get Sarah coffee, to keep Sarah and alert and peppy, and to keep our rental car out of a head-on collision.

The plan was initially to get her caffeine at a gas station, but this changed when Sarah noticed a gas station and wondered aloud what it would be like to order coffee through the McDonald's drive through. Wilco and I protested that there was no scenario or alternate universe where this would be an enriching experience. The problem is that when Sarah commits to a plan, there is no backing out. What followed was an astonishing train wreck of customer service. She ordered an espresso with a bottle of Water for Wilco, but was only charged for the water. The associate only remembered the espresso when prompted, then loudly proclaimed "I'M SO STUPID" and HIT himself in the head. He ran off, leaving the window door flapping open and shut on automatic, and spent some ten minutes away while we idled. He was alone, and looked extremely disheveled either from working the graveyard shift or from being under the influence of something. He got caught up with the customer behind us. After plenty of time to dwell on our regret for coming, he came by to tell us that he forgot that the espresso machine was broken. He gave Sarah a normal coffee for free, but we found it hilarious how bad of a decision the whole incident was for the 25 minutes it took to get coffee. Wilco asserted the McDonald's managers he personally knew from his homeland would not tolerate this sort of performance.

We arrived at Detroit airport and had a crisis figuring out how to get the rental car returned. Driving over one-way spikes is scary if you assume spikes in general are instant death. From there we were to take a shuttle to the airport terminal. We greeted the driver we were assigned, who informed us he was going home and rolled away without further comment. He didn't flip us off, but he might as well have. Another one helped us, but it'd been a fun night for customer service. Sarah and I also managed tick off an airline attendant by not checking in for our tickets BEFORE speaking to her to check a bag. We speculated she had a petty revenge by printing us tickets with no assigned seating.

The flight to Fort Lauderdale, Florida was uneventful. We nodded off in shifts. Sarah managed to nap fitfully on a flight for the first time in her life, thanks largely to curling up beside me in a way that wound up giving shoulder pain. We landed and rode a taxi to the port, where there was so much traffic awaiting to board the cruise ship that we must've paid ten bucks for idling in gridlock. The street side was bristled with luggage and people. We were directed into long, corkscrewing lines of passengers waiting for the chance to begin an arduous, tiered check in process. Instead of queuing up, however, we were sent into a ALTERNATE line where we got checked in immediately and painlessly. The tickets Wilco had purchased were fancy enough that we got preferential treatment. WIlco said something to the effect of, "Yeah, we ain't like those poor schlubs!" We even got to walk by an overlook which allowed us to savor how much we weren't in line like the rest.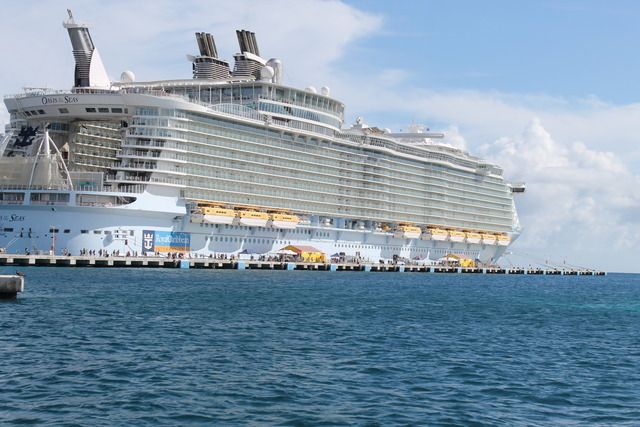 As someone has been a qualified schlub for life, for who flying first class is prohibitively expensive, drives junk cars, who buys off brands by necessity, and whose family celebrated with fast food provided there was a two for the price of one deal, this was a surreal experience. Everything seemed designed with richer people than I in mind. The whole cruise was. Once we'd boarded the ship, we came out into what amounted to a mall with fountains, restaurants, and celebratory dance music. Between the sleep deprivation and the blitz of stimuli, I felt like I'd entered a hedonistic Disney Land for adults. Shops were ludicrously expensive, ads for diamonds were frequent, and there was a persistent suggestion that you might as well plan your next world-spanning cruise now while you were still on vacation.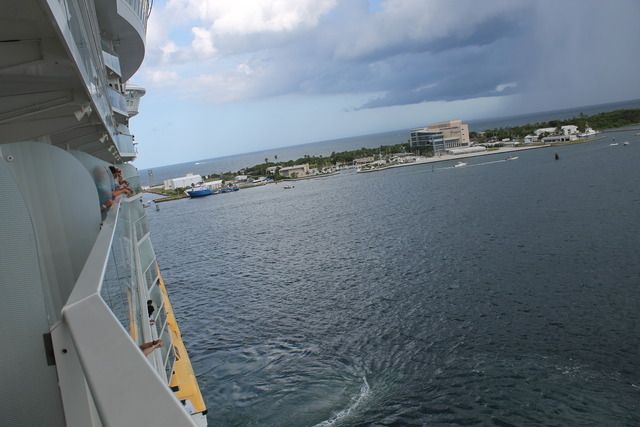 I felt very much like I did when my sister took me to Disney World when I was 10. I had this strong sense that I'd been graced with something painfully expensive which I had in no way earned. Like I could've spent a lifetime dreaming to have this experience but was only privileged to partake thanks to happenstance and the generosity of someone who cared for me. I'm left feeling both grateful and out of place.

We meandered, dazed, to customer service. Because Wilco's former significant other had not come on the cruise with us, Wilco still needed to try and refund as much of her share of the cruise as he could. This went very badly. He had tried to resolve this earlier in the trip, but was directed to contact the Australian office when he had no international calling available. On the boat, he waited in line to be put on a phone to be told by customer service that he needed to call the Australian office. The ship let him dial the Australian office, which would be closed for the next several days. This process took more than an hour was completely fruitless. By the end of it, Wilco had visibly shut down. Happy vacation Wilco!

Wilco was able to get ship board credit for the dinner reservations that went unused. Though in most cases he was asked upwards of SIX times if he was absolutely certain the fourth member of the dining party was not on board and that they, are you sure, wouldn't be joining them. Staff would return with a supervisor after the meal had started to confirm, hosts would double check, and wait staff would still set out extra menus and pour water for the absent party. The supervisor then might later pop in again to check that our missing person hadn't swum the ocean to join us aboard by some stroke of fortune. It got somewhat obnoxious. Wilco used a large sum of that refund credit towards getting a massage on the fourth or fifth day or so.

We ate lunch and crashed in our state rooms for a few hours. There was a small ocean facing Balcony, which was the best thing Wilco could have possibly done for Sarah. It would offer great views of boundless, Wind Waker blue ocean expanses. Otherwise our State Rooms were basically nice hotel rooms. Sarah remarked that we were basically like the 2nd class passengers on the Titanic, because I guess she likes tempting fate. Sarah ALSO wanted to check out the behind the scenes bowels of the ship, including the boiler room, but the only way to get a tour of the employee areas was to pay for a 150 dollars per person tour. Not happening.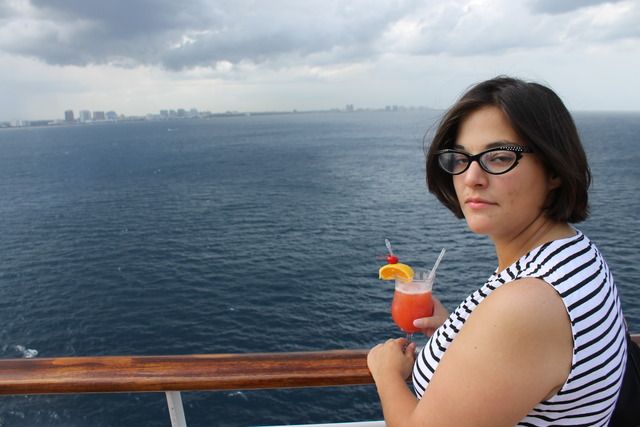 "You wanna fight, punk?"

Before we could really get any rest, we had to participate in a compulsory safety drill. Passengers were herded into the champagne bars and stores in tight, standing room only bunches. We then watched an animated musical number on a small television about how great it would be if we all remembered to wash our hands. Before we were released to start enjoying the cruise, we were presented with a recording of the Captain telling us what to do in case of an emergency, so that we don't riot or turn savage or whatever.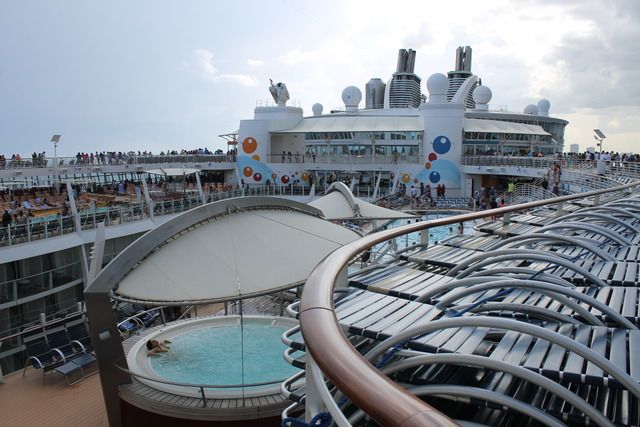 The ship was massive, according to Wilco the third largest cruise vessel in the world. 15 decks with 12 elevators for passengers on either end of the ship. There were three arcades, numerous restaurants and shops, a carousal, various pools, multiple stages and theaters for performances, a casino, a club, and a multitude of bars. It was excessive and overwhelming. Biblically, it might fit in with Babel or Gomorrah as a symbol of hubris and hedonism tempting disaster.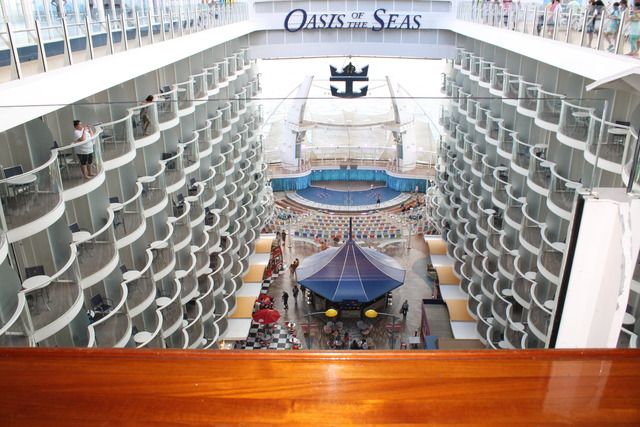 Sarah's favorite area was deck 15, which had all the pools, hot tubs, and lounging chairs. She would stare longingly at the colorful kids play area and wonder if she could run around in there without being presumed to be a creep. Her go-to area was the solarium, which was sunny which vast windowed viewing of the sea and ports.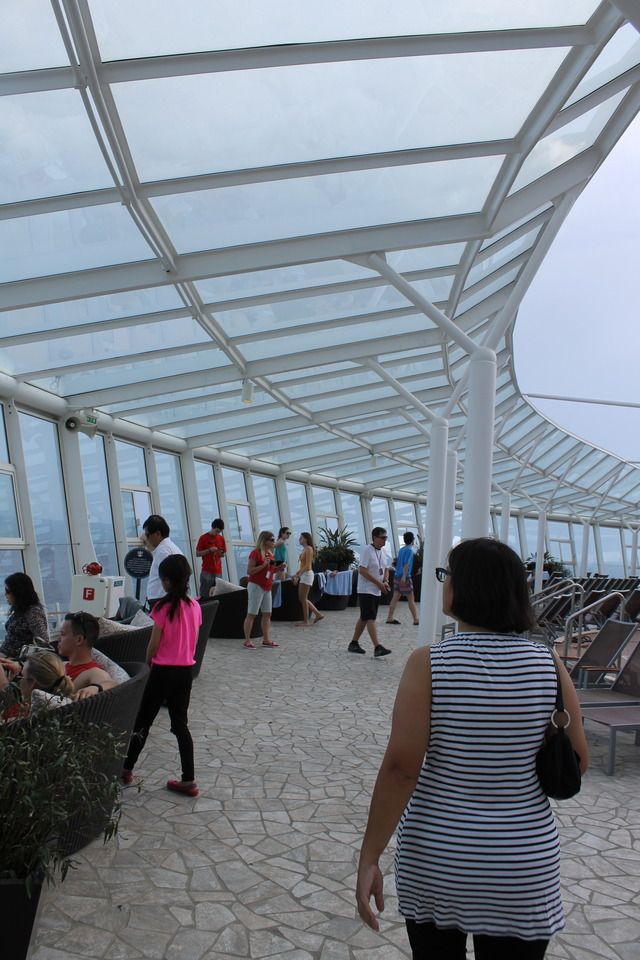 The cruise was for a week, and we'd be visiting three islands. Nassau in the Bahamas, Saint Thomas in the Virgin Islands, and Saint Martin (jointly owned by the French and Dutch.) Nassau we'd arrive at very early the day after departure, and the remaining two islands would be visited in quick succession after a day at sea. That done, we'd head back to mainland U.S. after two more days at sea.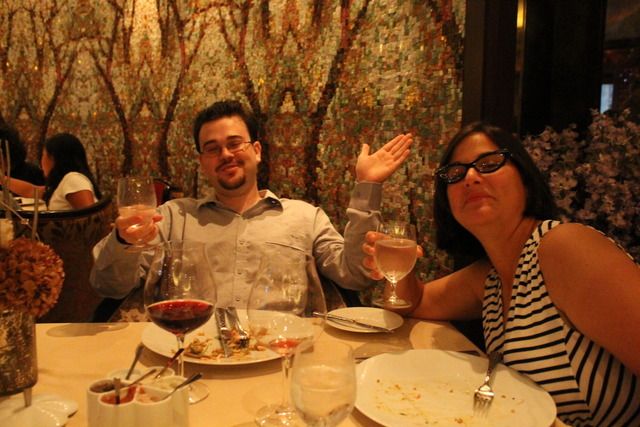 Wilco booked a dinner at each of the specialty restaurants onboard, one for each night. The first was for the fanciest of all the restaurants, 150 Park Place. The waiter was smooth and talked up every single dish as it was presented to us at length. We had a four course meal, and Wilco and Sarah got a different glass of wine with each dish. Even the bread was needlessly extravagant: Bread and butter with six specialty types of salt to mix in from all over the world: including BOILED EGG flavored salt. Wilco and Sarah loved the explanations, though I thought the food should be able to stand on its own without us knowing how amazing the irrigation was for the organic tomatoes in the dish. Still, the story behind the food was part of the palette of the experience. I felt very humbled since I felt a meal this fancy was wasted on someone like me.

Wilco had to stop himself from finishing his wine because he had reached his limit. Sarah drank too much in large part out of a personal obligation to not waste good wine. Wilco was the wiser in this instance, though Sarah has only got drunk on extremely rare occasions.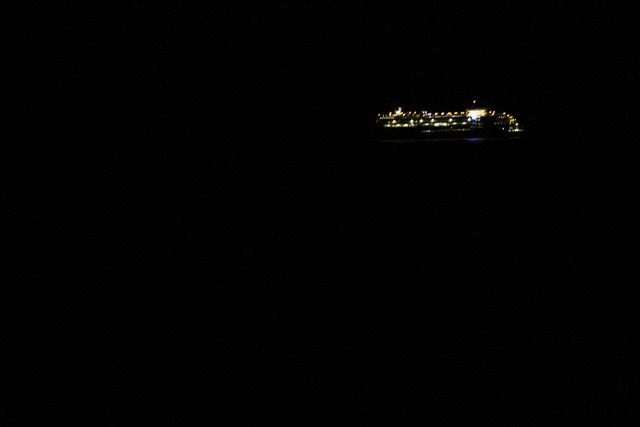 There is no way to capture on film how eerie looking out on our balcony was this late at night. The water lapping quietly, the sea just on the edge of visibility, the silence beyond the sound of the ocean. It all fading into inky dark within meters of the ship. Other cruise ships were lit up like beacons in the black. It was peaceful and strange.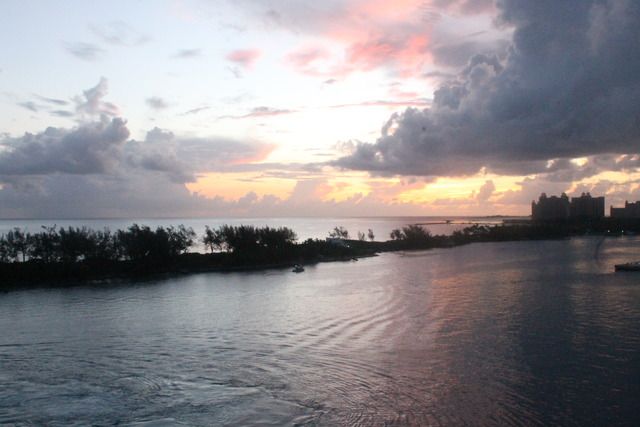 We had an early morning for Nassau, and we made a point to rise early to make the most of it. We only had about four or five hours to experience the island before the ship intended to depart. We considered signing up for excursions, but were deterred by the price tags. We decided to wing it on the island, see if the attractions were cheaper outside the excursion packages, and explore on our own.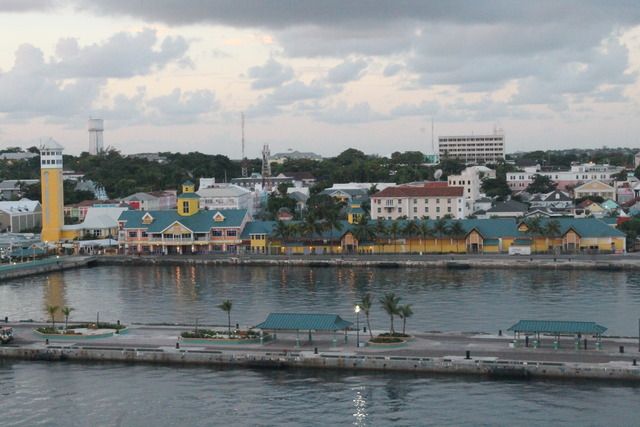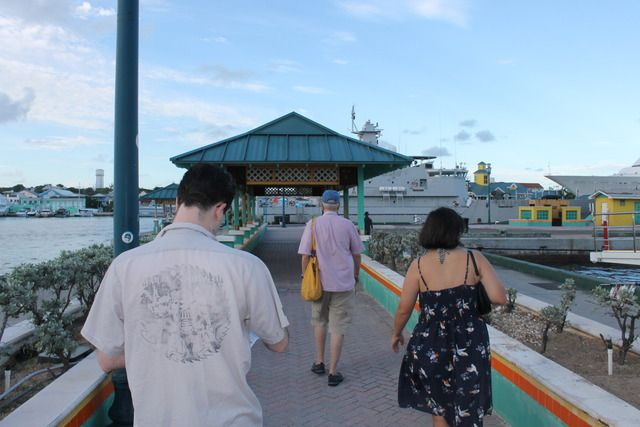 After disembarking, we planned to make our way on foot to notable attractions. We were beset by a mob of dozen or so cabbies out of the gate who harassed us to let them drive us to where we wanted to go. They were very irritable when we walked past them.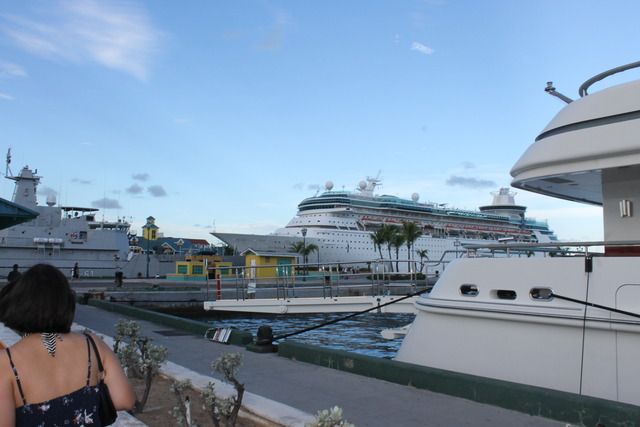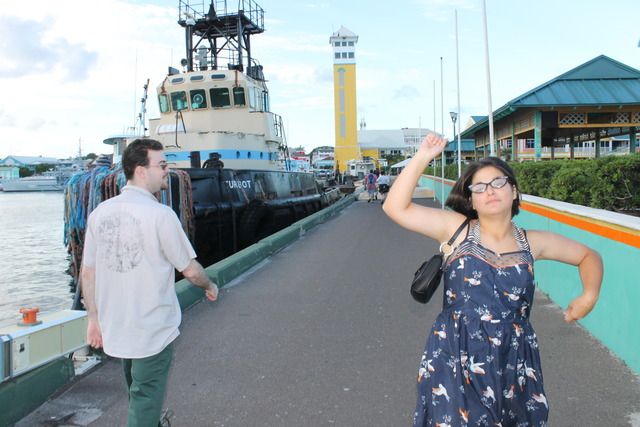 The port is probably a lot prettier from afar than close up. I half expected the ports to be a nothing but very sanitized tourist traps. On the contrary, there was a lot of litter and distinct signs of poverty. This might be because we bypassed the cab ride. We strolled around the very hilly streets, which were loaded up with shops and markets which were all still closed. We were perhaps a bit too eager to experience the island.




Wilco has never been able to escape the looming shadow of the Hard Rock cafe.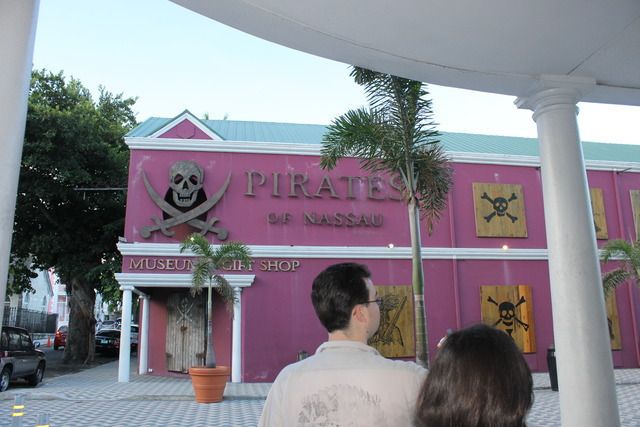 The major attraction for us was the pirate museum, which also wasn't open yet. We had to kill sometime around town until then.




Sarah gravitated towards the peer, hearing the siren's call of the sea. Sarah made a recurring effort to swim whenever possible in the Caribbean, drawn to it by inscrutable forces. She also was insistent about trying to talk Wilco and I into swimming with much resistance.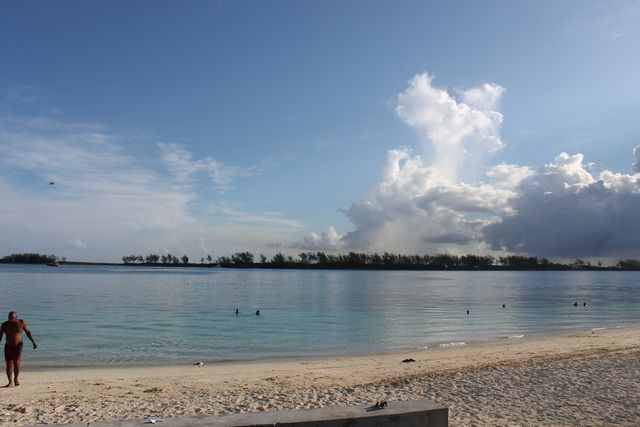 It didn't take long for us to be approached by local merchants, including one who introduced himself as "The General," who wanted to rent us scuba gear, goggles, beach chairs, umbrellas, etc. These merchants were relatively laid back compared to the more aggressive rental people we'd meet on later islands.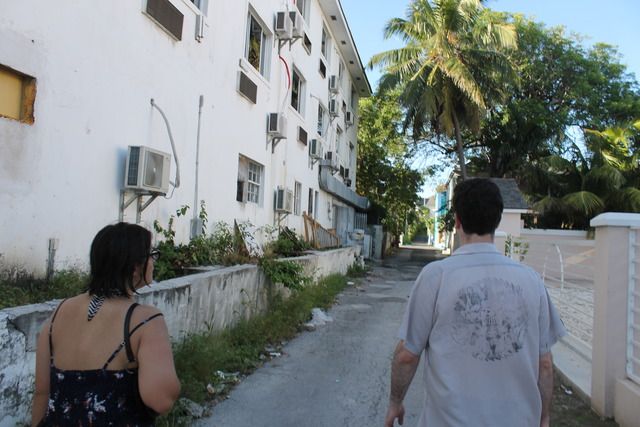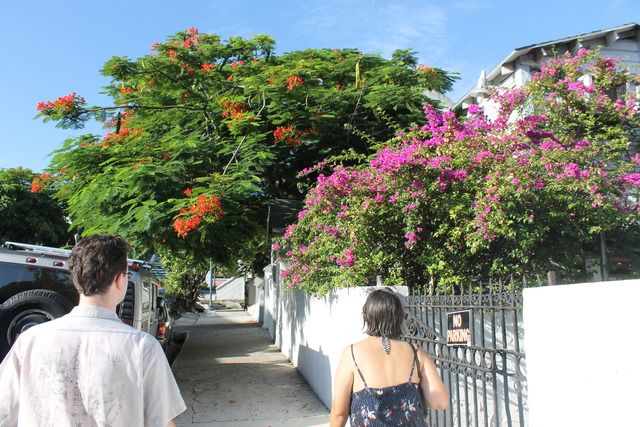 The neighborhood around the peer was very colorful, if heavily worn around the edges.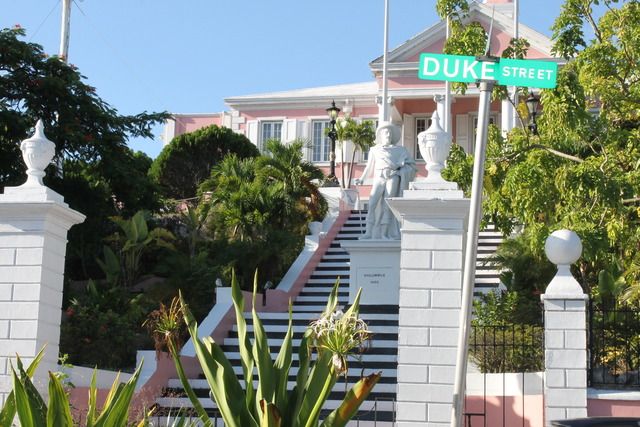 This government building had a statue of Columbus which escapes my memory.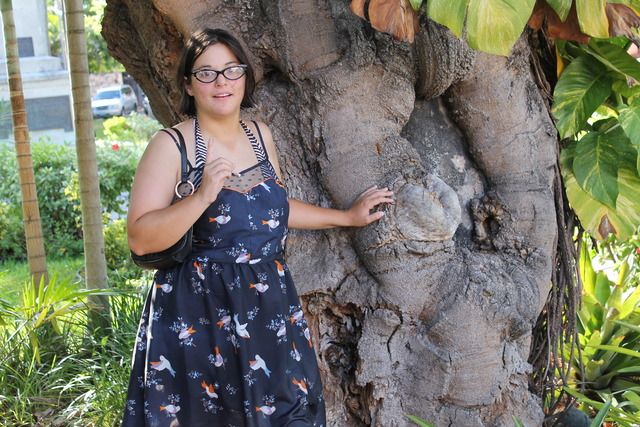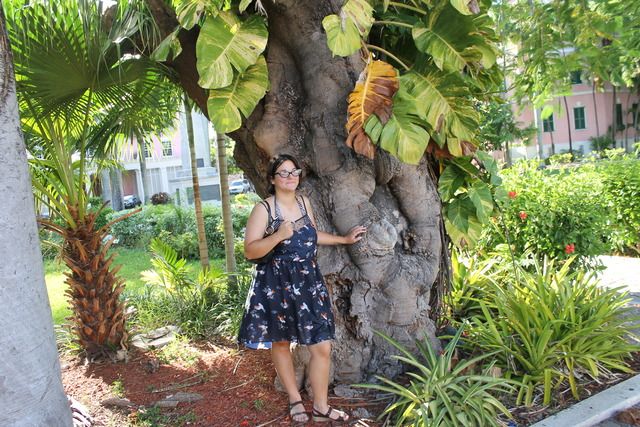 Sarah, again, preternaturally drawn to the majesty of nature.




Attempts to mind-meld with the tree were disappointing.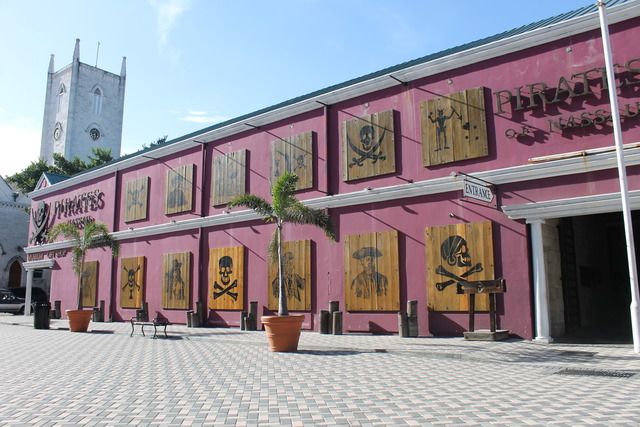 The Pirate Museum opened up! Time to get educated about rapscallions! Notably, signing up for this attraction as an excursion cost 50 bucks per person, while showing up to it on our own was a mere 14 per person.

Apparently Nassau was founded by pirates for pirates, at least until European forces decided they wouldn't have any of that and seized control. Pirates are a big deal for this area. At least for capitalizing on history.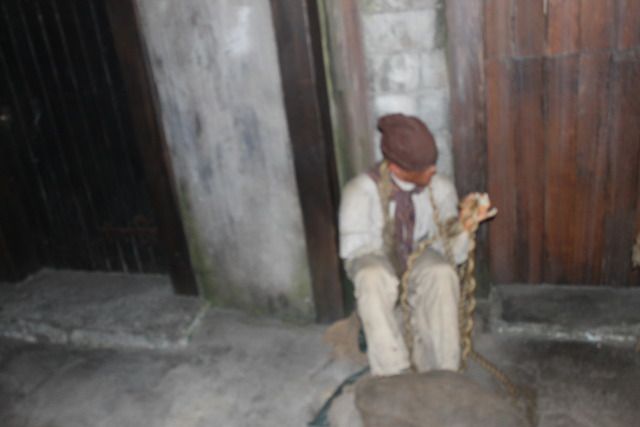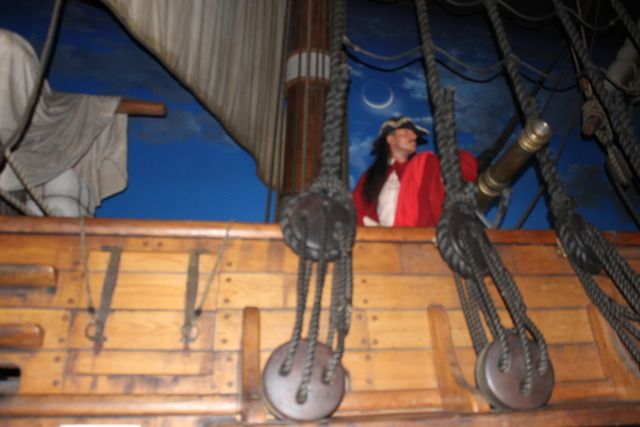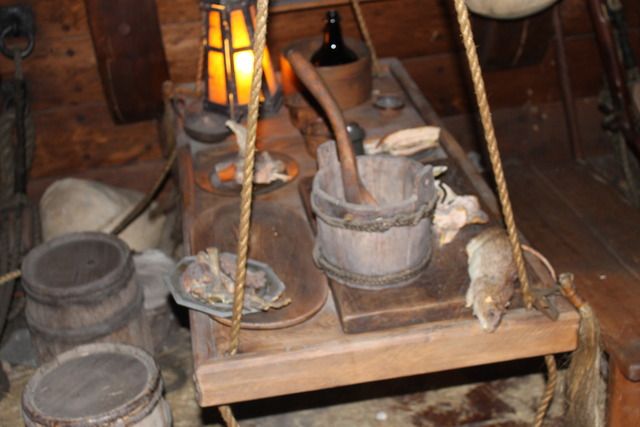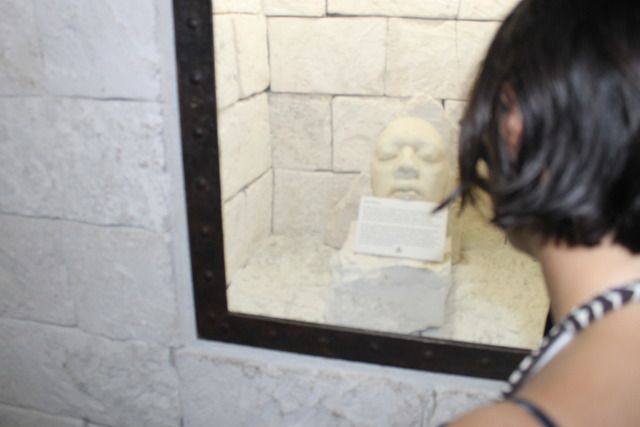 The museum was populated with uncanny mannequins and mock ups. Little in terms of actual relics, but lots of educational information which was a lot of fun. Less Disney attraction than you might expect based on the displays. Wilco was well aware of the broad trivia. The Museum does paint Captain Kidd as fairly incompetent, and Wilco would remark about everything is well and fine provided you don't wind up in a gibbet. One of our favorite details involved a guy who invested in piracy like a business, and bought his own ship for buccaneering only to very quickly lose control of the enterprise.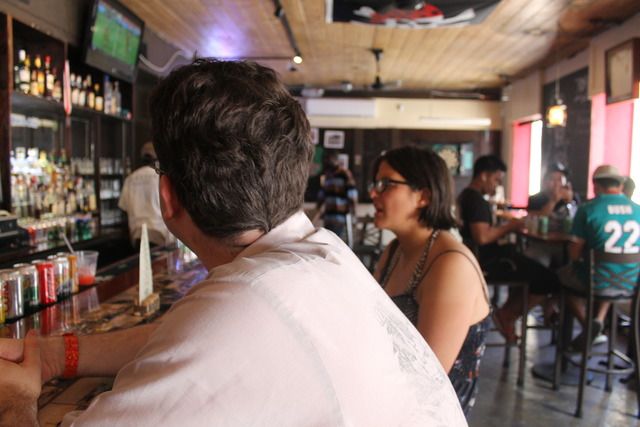 We stopped in at a local bar briefly to cool off.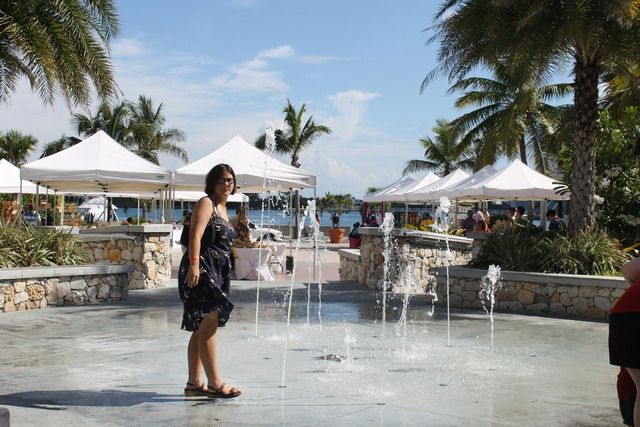 Apparently I married a Nereid

Shops had officially opened, so we checked out the local market. It was disappointing. A warehouse full of stalls for vendors, and it appeared everyone had the same supplier for merchandise. The same tacky trinkets, an endless array of Bob Marley shirts, and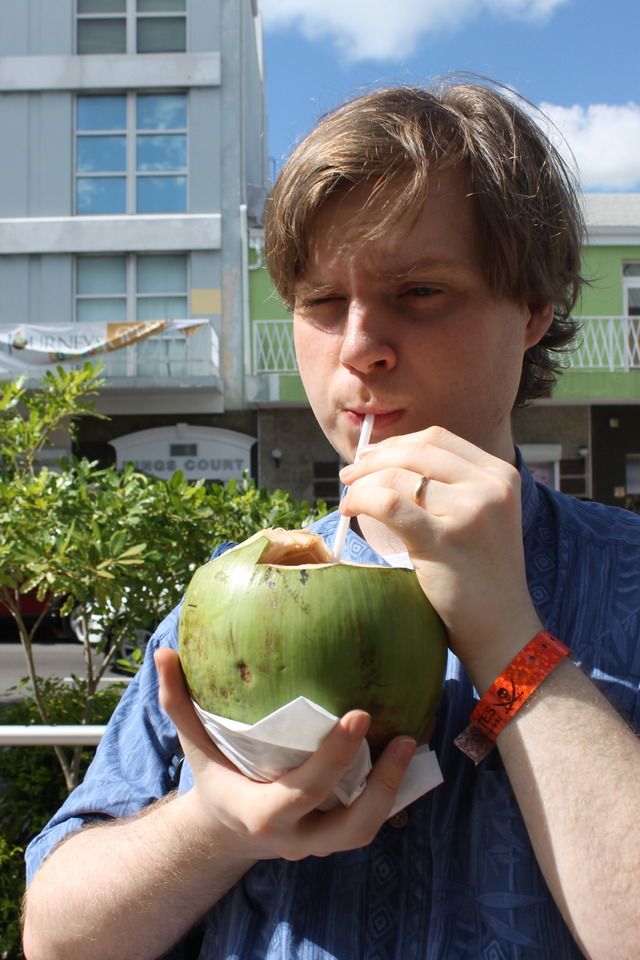 The one purchase we did make at the market was for a coconut. It seemed like the most festive thing. The locals drove up with a trunk full of coconuts, hauled them into the market, and chopped them open with straws. Promising a unique experience! Wilco and Sarah handed it off to me, though, because the reality is that it wasn't very good. Lukewarm, and left me feeling a bit sick.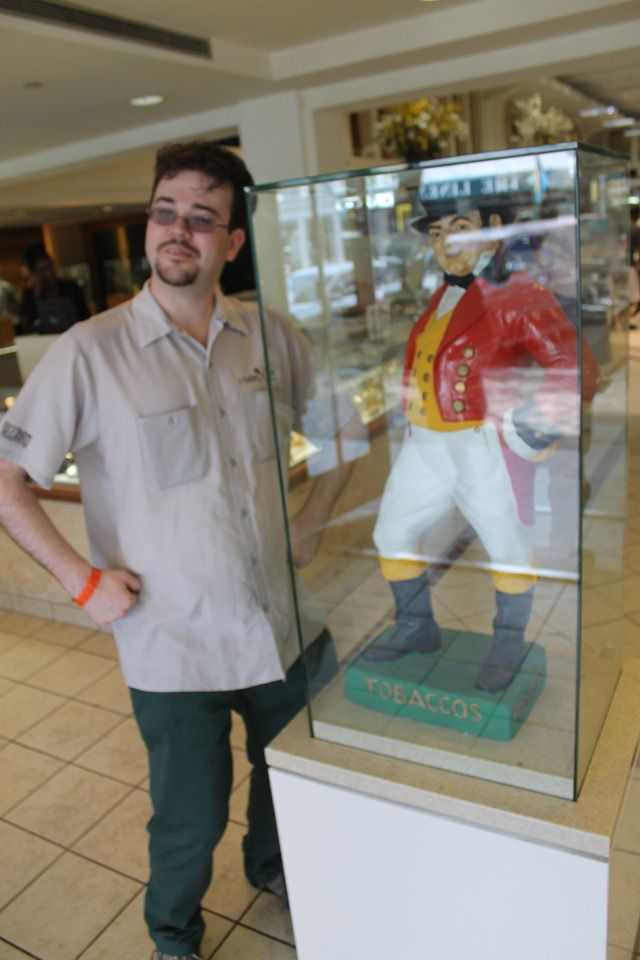 Other store fronts included JOHN BULL, who looked the full image of the Europeans coming in to profit and subjugate on the locals! His store was LUDICROUSLY over priced jewelry, clothes and electronics. Wilco tried on a fancy tie with the intent to splurge, only to have to back out because the thing was about a hundred dollars more than the price he was anticipating.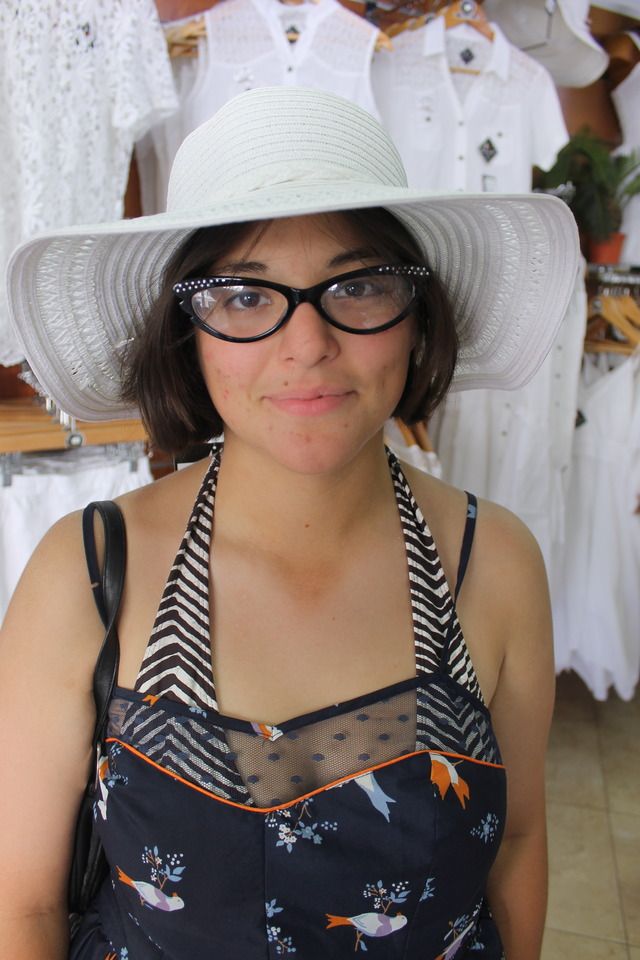 Sarah's big purchase for the trip was a white hat and dress from a store that exclusive sold white clothing (with the only exception being black handbags.)

Sarah DID search through about five stores hoping to find a souvenir floaty pen as a peace offering for her mother. This mission was futile and fruitless, but she was stubborn. Every souvenir store had identical merchandise, so it appeared no amount of persistence would pay off. Sarah settled to collect souvenir magnets from the islands we visited.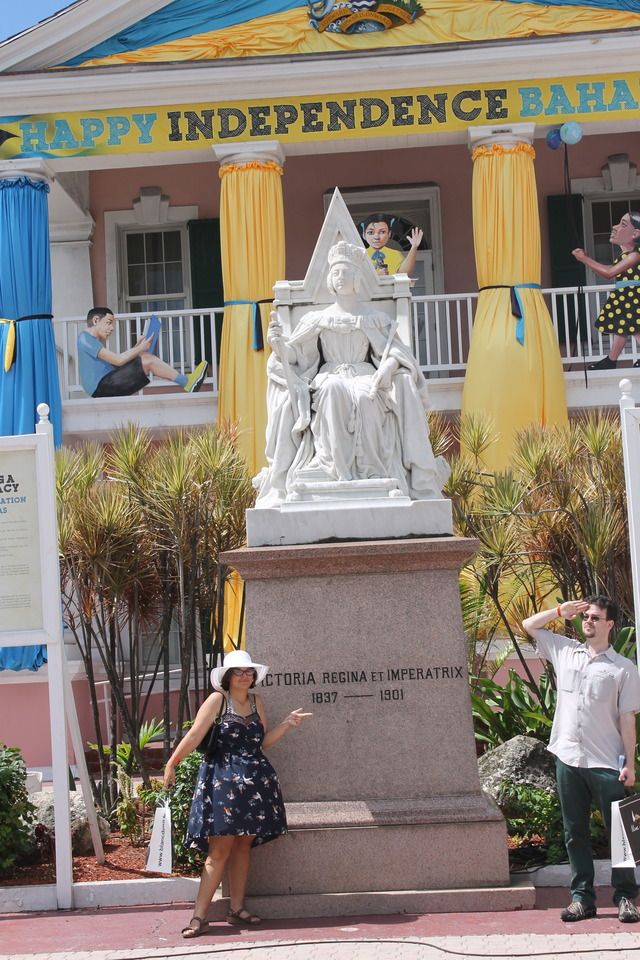 Wilco salutes the queen mother. Whatever. It's not an American Bald Eagle. Sarah is too American to raise her arm high enough to salute anything short of the ESSENCE of LIBERTY and FREEDOM.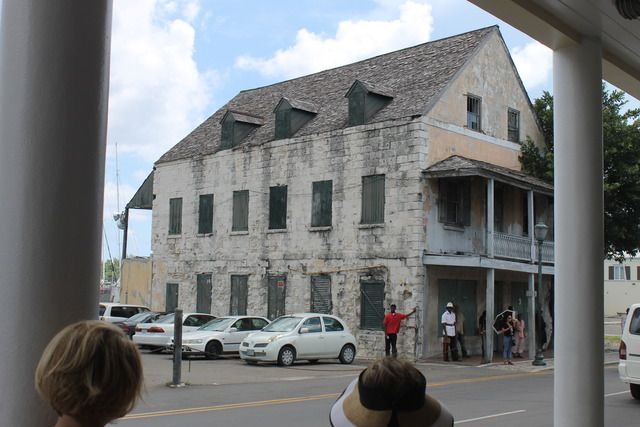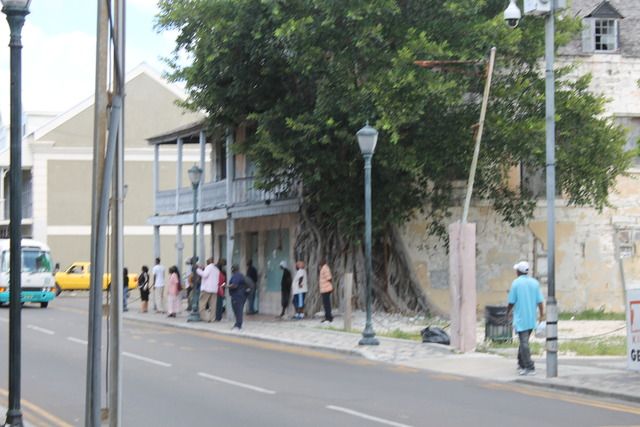 I can't tell if this rad spooky house is in some way manufactured for some sort of tourist attraction, or legitimately just some creepy dilapidated tree/house hybrid.

We briefly stopped for lunch to try some "bearded conch" at a local restaurant. Only, we could not detect any actual conch meet in the dishes. It was basically just fried bread. Really disappointing.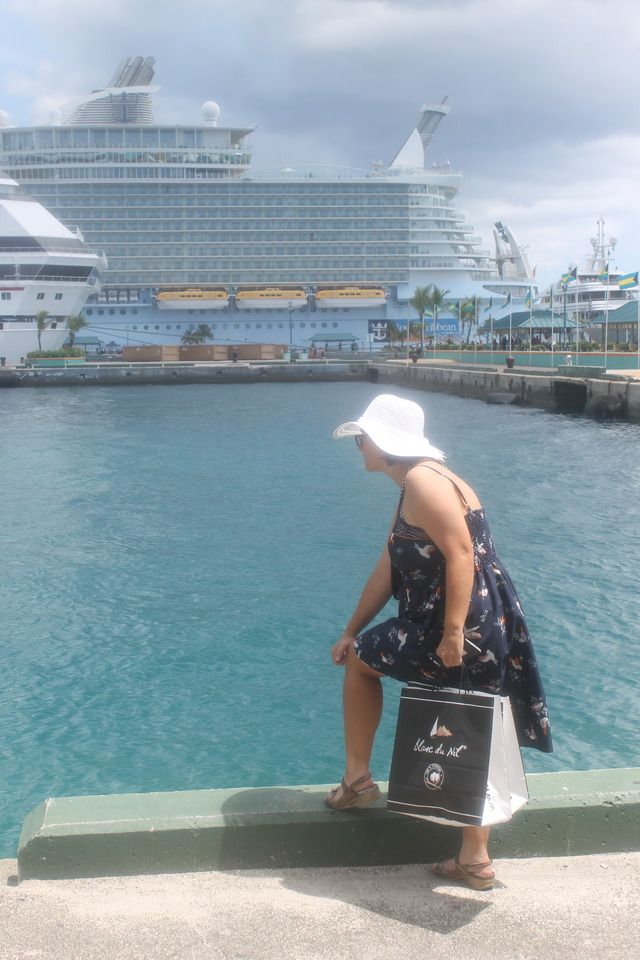 Time was running out, so we had to hustle back to the ship for All Aboard. Wilco quickly bought a beer to sample the local flavor, but wasn't allowed through customs with the bottle in hand. He had to sit in customs and finish the bottle before we were allowed to re-board.


Once back on the boat, we were handed papers inviting us to attend a raffle. Sarah, unable to resist the opportunity to win FREE STUFF, wanted to go. We figured it was harmless enough to attend. Only it was a trap.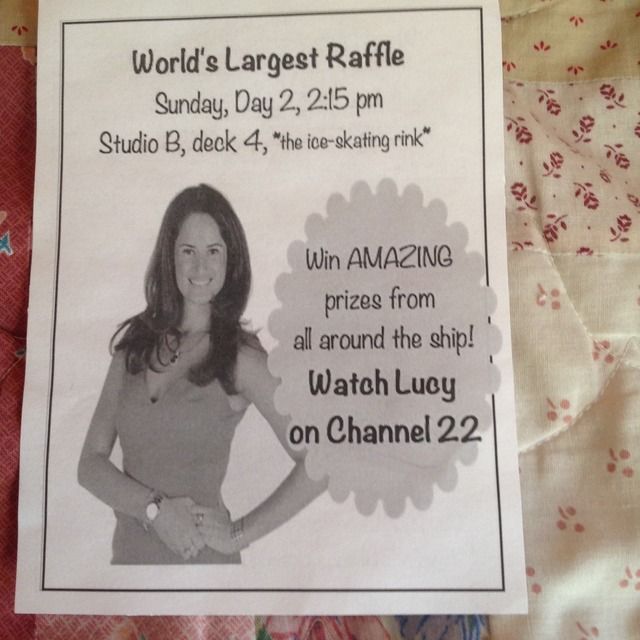 This was our primary introduction to Lucy, the dedicated spokeswoman on board the cruise for SHOPPING. She shows up on the cruise TV shopping channel, and provided the raffle presentation. She will be recorded in infamy here. A couple hundred people showed up for the raffle, with such fabulous prizes at stake such as A CHILD'S SODA DRINK PACKAGE, A LUNCH AT JOHNNY ROCKET'S, a GOLD NECKLACE, or ONE DAY OF FREE WIFI. Not even the entire cruise worth of internet. A single day. Wilco and Sarah were particularly derisive towards the idea of winning the meal at Johnny Rockets.

So the prizes weren't that great, and our odds of winning anything were worse. Some people close by us won some early prizes and blew our chances with the Statistical Probability Fairy.

When the prizes got to a gold necklace, something insidious began to happen. Lucy started talking about how our next destination, Saint Thomas, was a world capital for duty free diamond purchasing. Oh, cool, that's a nice bit of trivia. Only, she kept talking about diamonds, at length. We were like three raffle prizes in a suddenly we were knee deep in a power point presentation about how many cuts a diamond should have, culets, the tables of diamonds, tactics for getting the best deals on diamonds by haggling with the managers, nitrogen content, Miner's cuts, et cetera. Above all else Lucy emphasized to us that it was imperative that we only shop for diamonds at certified dealers (sponsored by Royal Caribbean cruise lines) so that we don't wind up with cheap, inferior diamonds.

Then, she interrupted her spiel long enough to raffle off the Children's Drink Package. (What do you even do with that if you have no kids? What if you and your kids are ALREADY on drink packages?) Then the lecture continued and just WOULD NOT end. There were only a total of maybe eight prizes for the raffle. With padding, this raffle had no business being longer than fifteen minutes. Lucy dragged the whole thing out for well over an hour. It became this comical purgatory where you are lectured at about buying diamonds for an eternally without winning anything.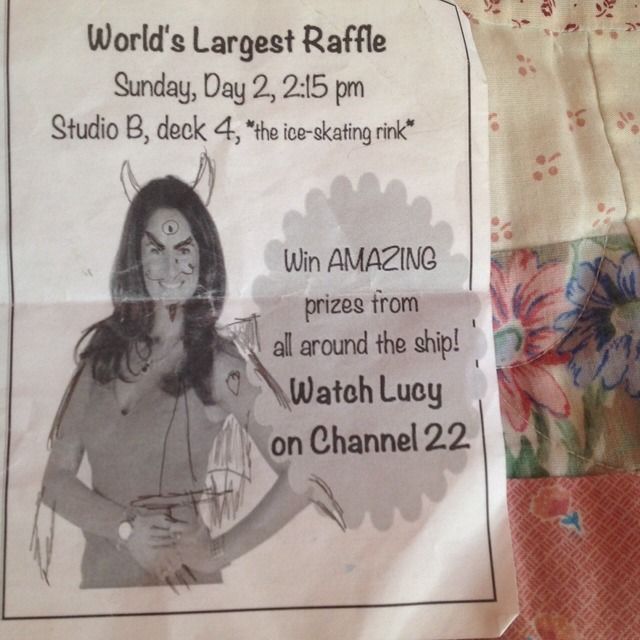 Then, when she noted she had completed talking about diamonds, she started talking about TANZANITE. Which, if Lucy's hyperbole was to be believed, are basically diamonds on CRACK. Can you guess, Lucy asked with held breath, what island in the Virgin Islands happens to be the Tanzanite shopping capital of the world? Can you bear to keep your wallets restrained to hear that this once in a life time opportunity is just a day away??

We were directed to fill out forms provided to us before the raffle, asking us what types of tanzanite jewelry we were interested in buying, so Lucy could provide personalized referrals to local certified jewelry vendors in Saint Thomas. People who buy diamonds on a whim was implied to be normal, expected. This moment, above all others, drove home how far outside the standard cruise demographic I was. I only ever imagined buying diamonds MAYBE for a wedding band, and Sarah and I decided to opt out of that.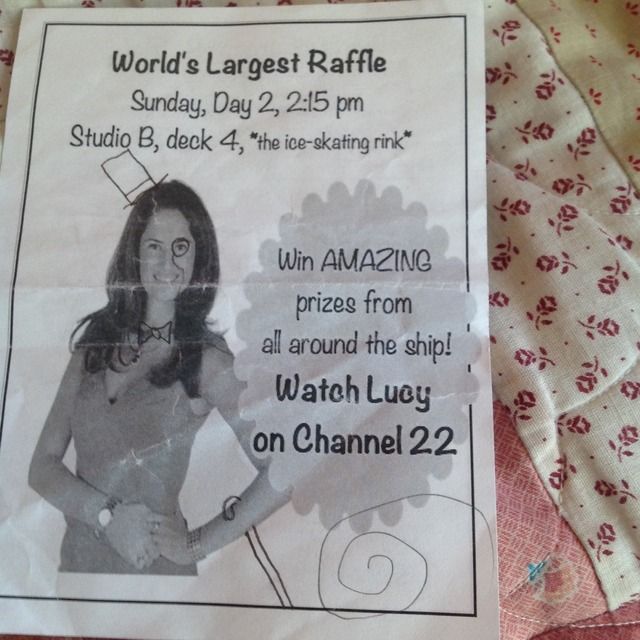 The whole situation became increasingly funny to us, probably as a coping strategy. Once Lucy had finished talking about Tanzanite, she started to talk about OTHER gem stones at length. We were in the front row, but couldn't help but giggling to each other about how much of a farce the raffle had become. Lucy probably tacked on an extra fifteen minutes to the presentation because of our visible irreverence.

Before we were dismissed, prizeless, Lucy promised us all that we could show up tomorrow for a guide to shopping in Saint Thomas, with maps and free prize give away, and coupons for free stuff in Saint Thomas! Ha! Ha ha! Never again! For me, anyway. Wilco and Sarah proved to be gluttons to punishment and turned up for Lucy's Round 2 in hopes to get free stuff, or in Wilco's case, the map. Of course, the shopping map is only useful if you plan to buy DIAMONDS and TAZANITE in mass quantities. I opted out, but they told me that it was just as ridiculous. They showed golden wrist watches with gem stones instead of hours that you could, just wait until you see this, ROTATE.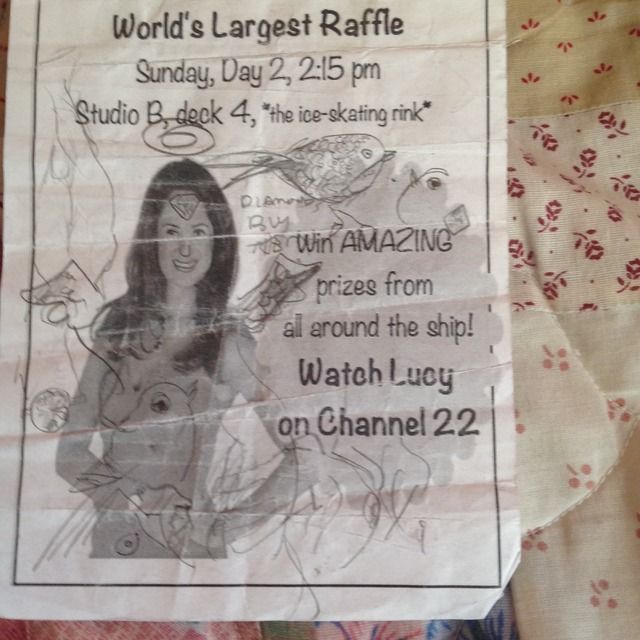 Wilco and Sarah apparently managed to crack up a neighboring sufferer, as they ridiculed the absurdity of the gaudy trinkets Lucy was peddling. "And then you CRACK it in half, and then you throw it away!"

Lucy would continue to bait people on the cruise with freebies, including charms to attach to a free necklace, to draw victims into her greater marketing web. People would congregate in lines to speak with Lucy or receive her blessing in the form of a freebie. We increasingly referred to this as the Cult of Lucy. Her shade was continually cast over the rest of the cruise, as she made frequent appearances at other functions and events to inform people about fabulous opportunities (buy diamonds.)

Anyway. I digress.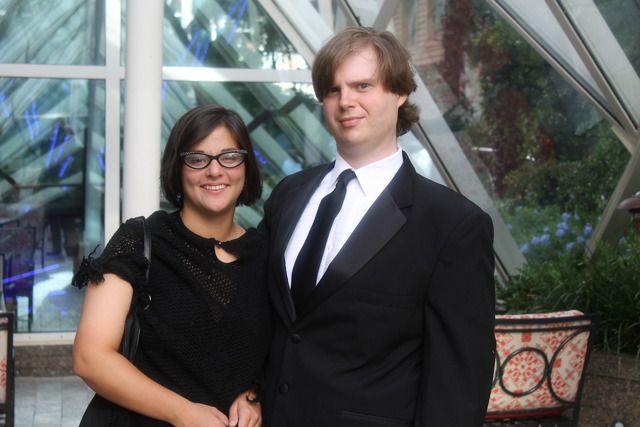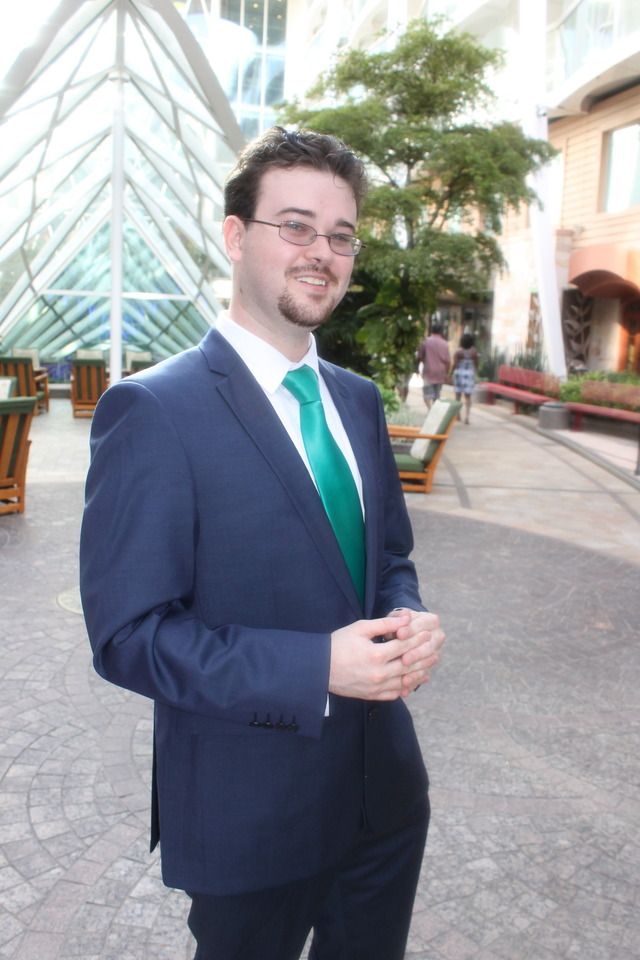 That evening we had a formal dinner at Giovanni's Table. An excuse to dress up. Me in my wedding tuxedo, and Wilco in his Lerorio cosplay. Which is about as classy as you can get.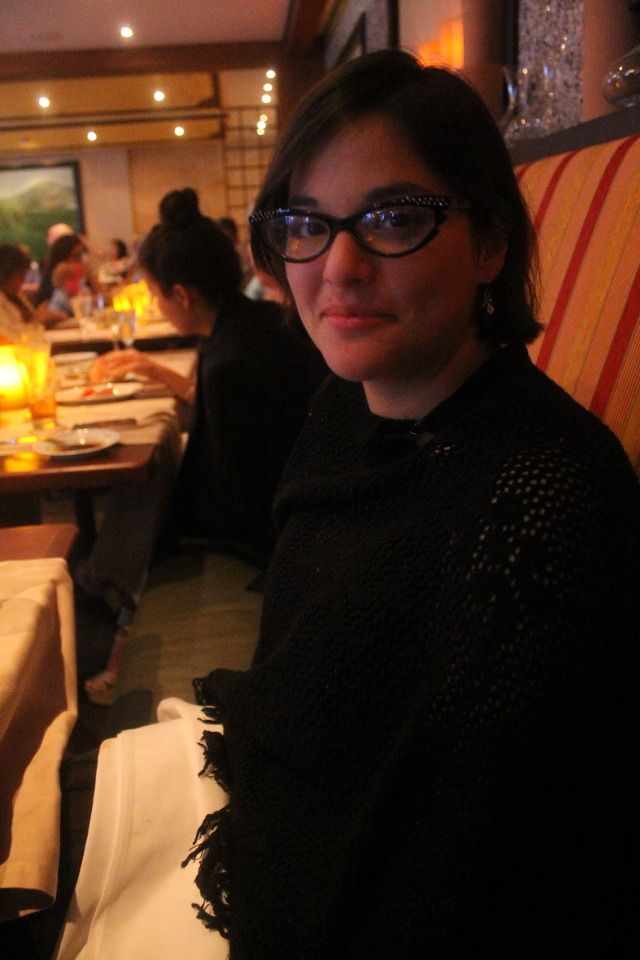 Giovanni's was a very different experience. It was LOUD with conversation, and they gave us way, way too much food. There is probably a joke in there at the expense of ethnicity. Also, the staff sang happy birthday to at least three different patrons while we were there.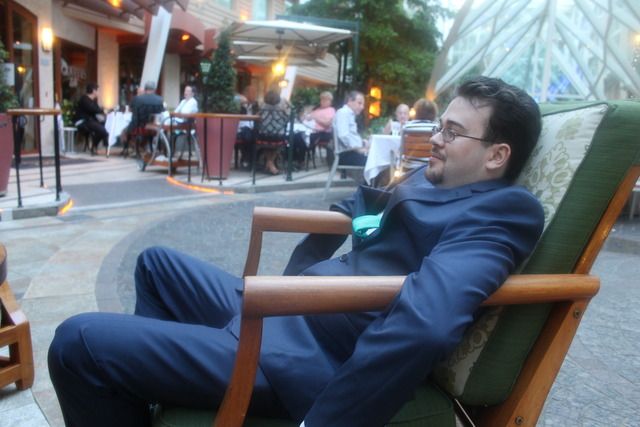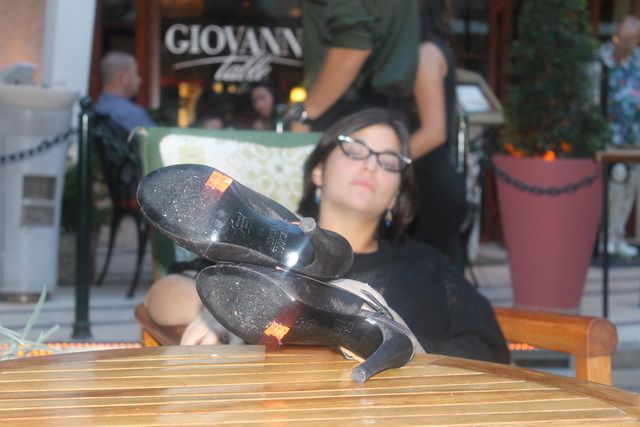 Post meal food coma was the natural outcome.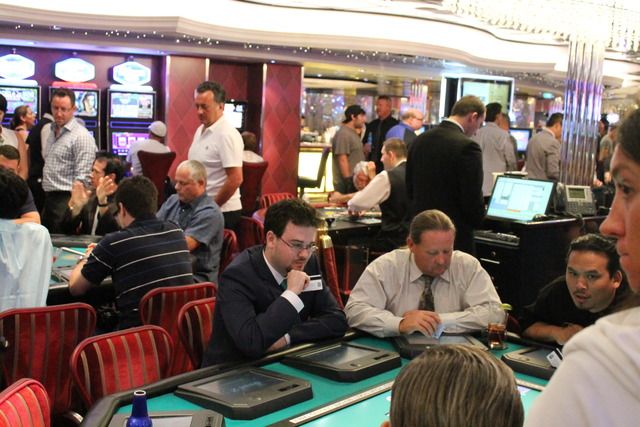 Prior to arriving at Saint Thomas, Wilco decided to enter a Poker Tournament. Sarah and I hung back to root for him. The tournament was up against eight other people. Wilco got hit hard early. One guy, Scott if I remember correctly, was dominating with a huge lead and was cheap bullying like crazy. He felt like the big bad Poker movie villain. Wilco played very conservatively, disregarding my advice to play like I did in Michigan.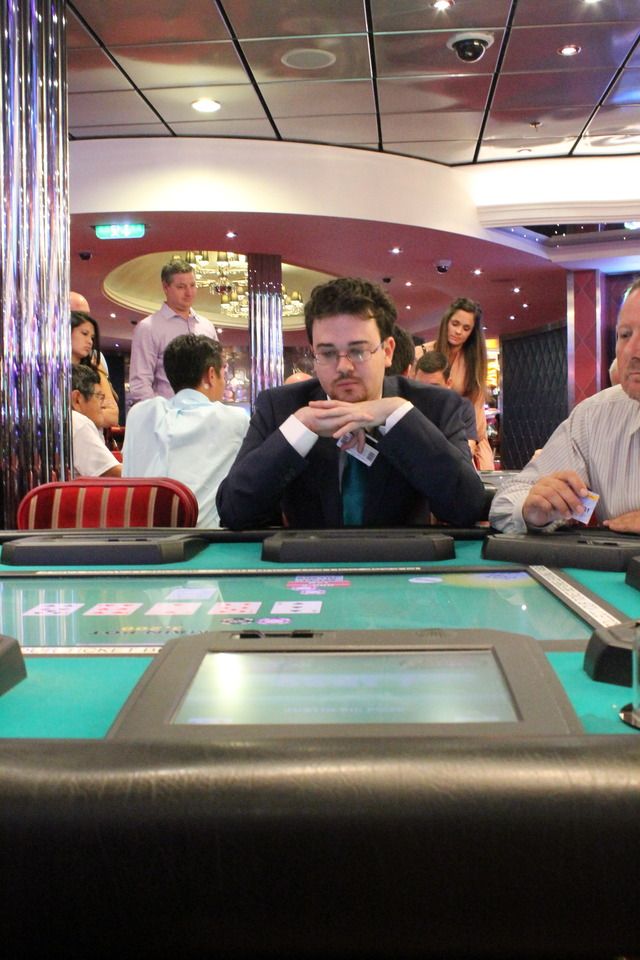 Wilco danced with bankruptcy several times, narrowly surviving, and then something big happen: Wilco managed to tear a huge amount of money from Scott and gain the lead. His opponents were suddenly dropping like flies as Wilco finally had the bank roll to play for real. In the end, his last surviving competitor was the other underdog, named Chris. Chris was chatty, amiable, and very good natured about his bad luck. He managed to place second.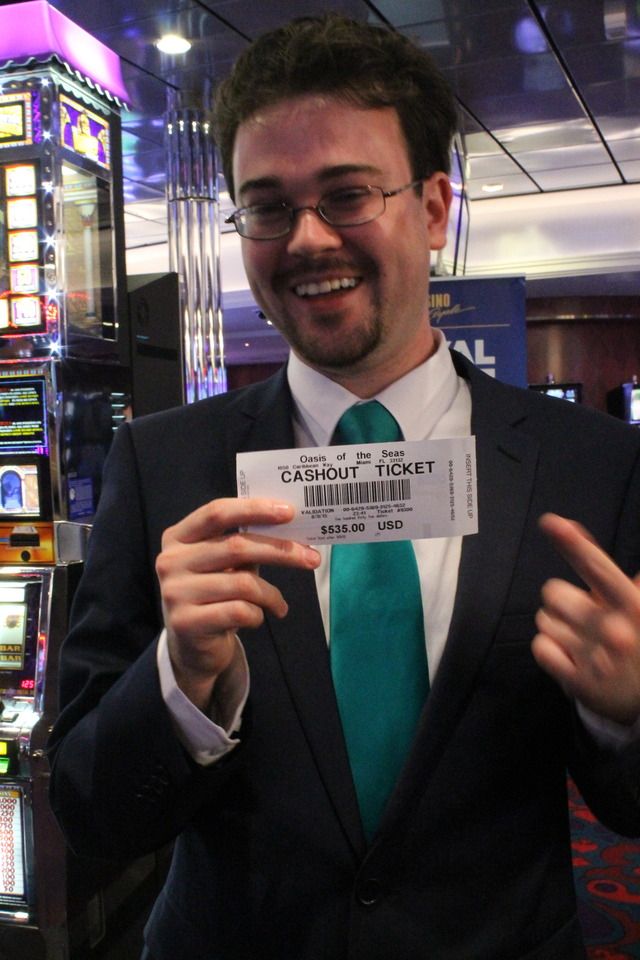 We were ecstatic that Wilco managed to win the tournament. He got some 535 dollars after an initial investment of 100 to enter. He basically managed to pay for his absurd World of Warcraft card purchase by winning a card tournament. Just as planned.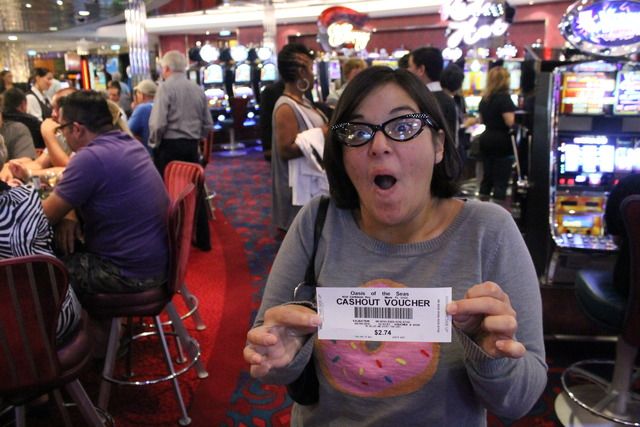 Sarah was simultaneously intimidated and intrigued by the casino. I gave her a couple couple bucks and let her have a go at the penny slots. The entire time I lectured her about the psychology of gambling, and how the majority of these types of games are manipulative means to bleed money out of you. She walked away with a whopping 74 cent profit.




During my solo time on the cruise, while Sarah and Wilco were suckered into participating into Lucy's Diamond Tanzanite Fun Time round 2, I stopped into the arcade. It was not a good arcade, with games that cost more than a dollar and tended to last about thirty seconds at maximum. Lots of busted arcade machine. I gave myself ten bucks to play with, but the real reward for doing this was what I traded by arcade tickets in for.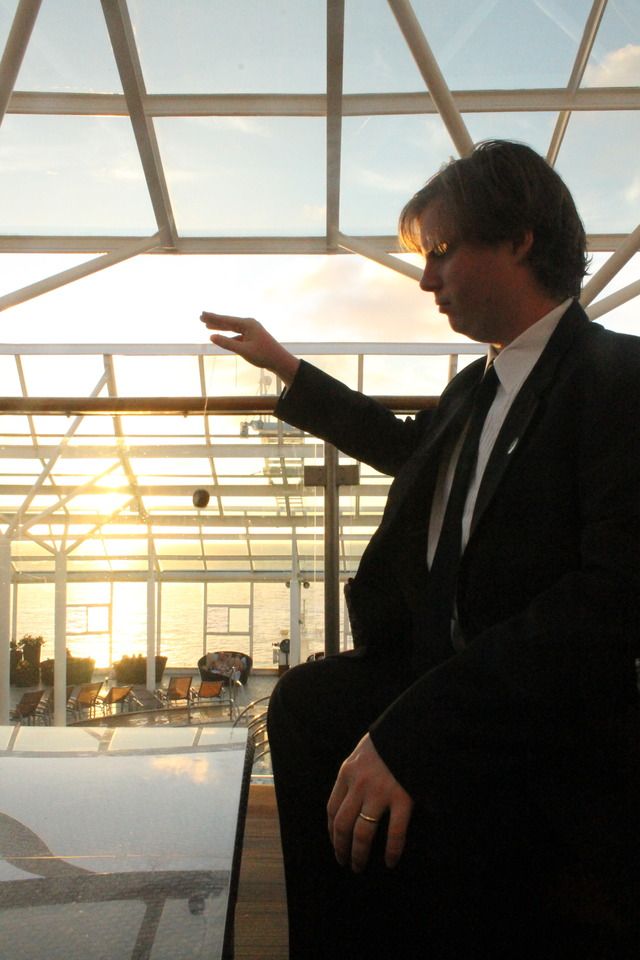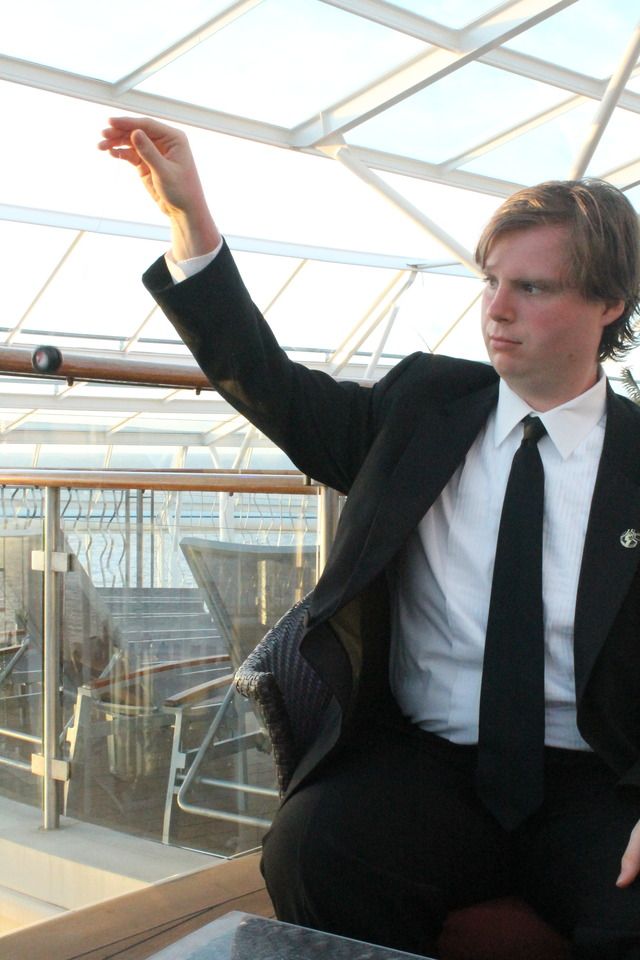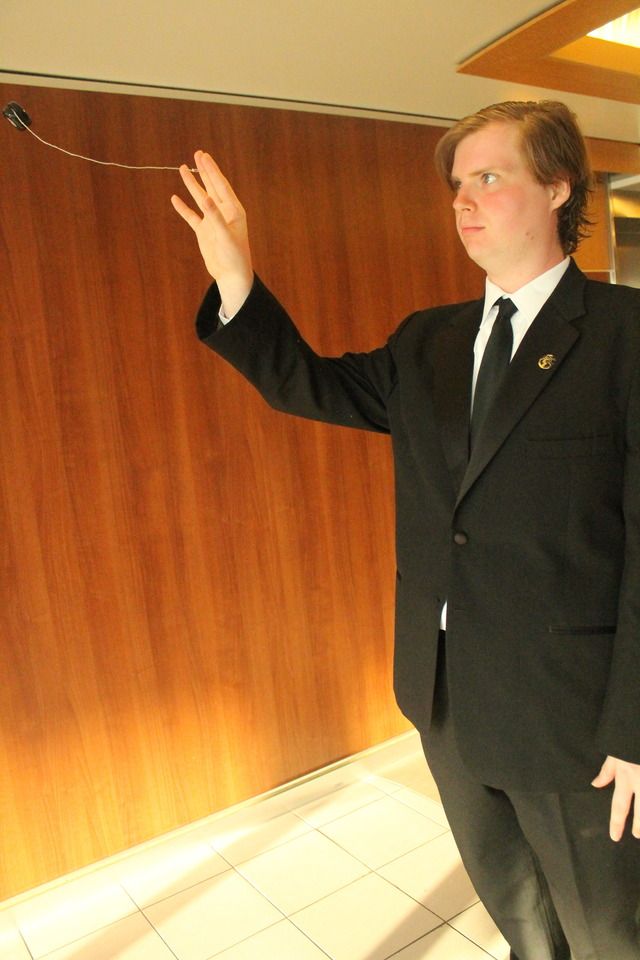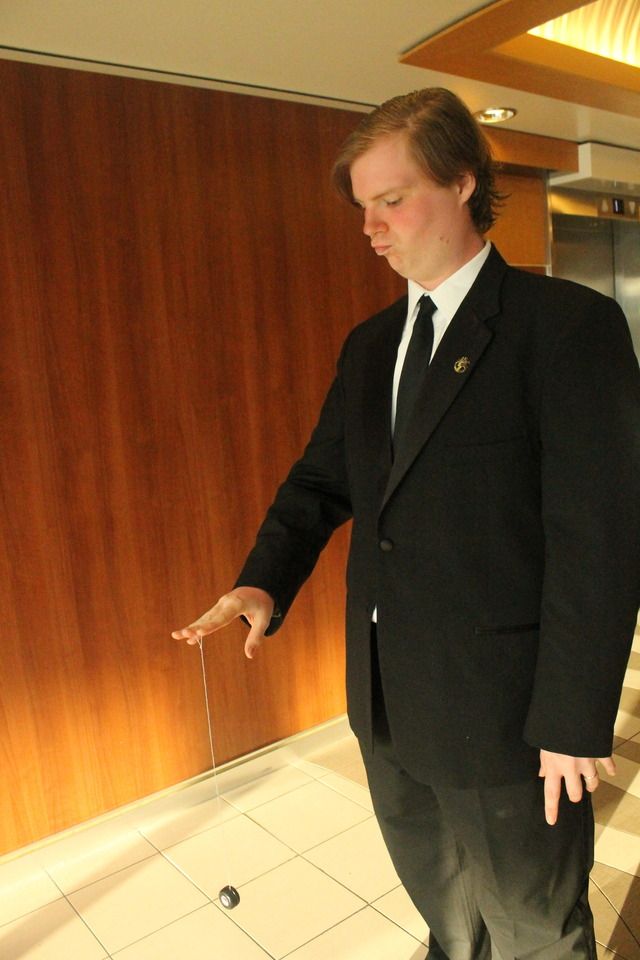 I opted to get a crappy little plastic yoyo, with a pokeball sticker on it. Probably took about eight cents to manufacture in China. The string was frayed before I ever started playing with it. I played with it almost every waking moment for the rest of the cruise. Sarah and Wilco joked that it was keeping me sane during all the time spent doing things I wasn't interested in. I just liked that I had a yoyo. It was especially nice when we were walking down that long, long hallways of the ship trying to get from front to aft or back again. My plan was to play with it until it broke, but it never did. I liked to imagine I poured more love into this disposable toy than was ever intended, which unlocked its true potential in the face of all odds.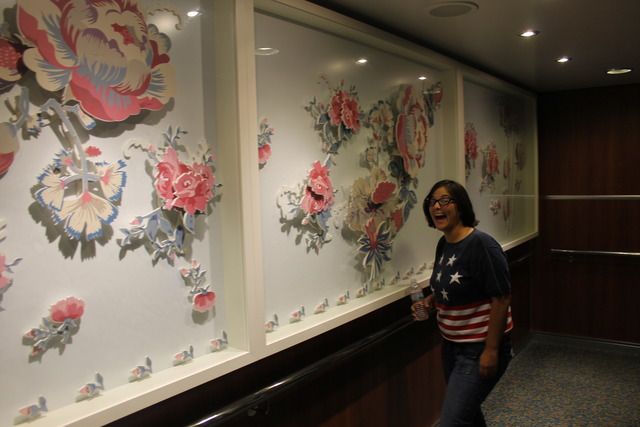 Sarah absolutely adored the art aboard the ship. It was a lot of really classy stuff and it was n the stair wells where people very rarely appreciated it.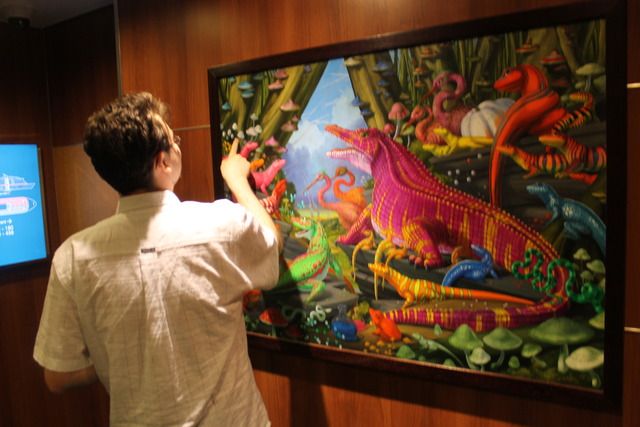 This one in particular was just engagingly weird, with dayglow lizards and nonsensical political commentary.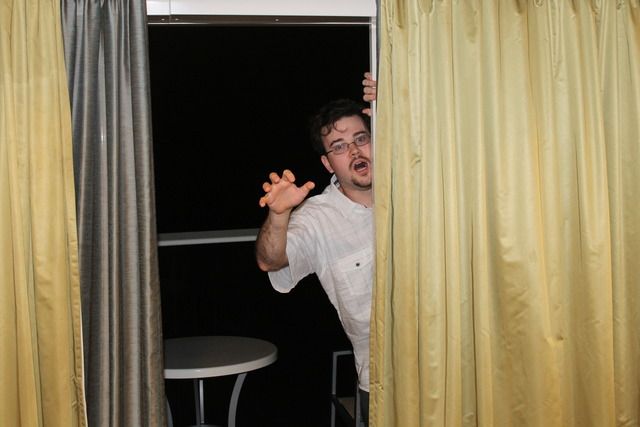 Wilco visiting us late at night, after clamoring around the outside hull of the ship like a spider.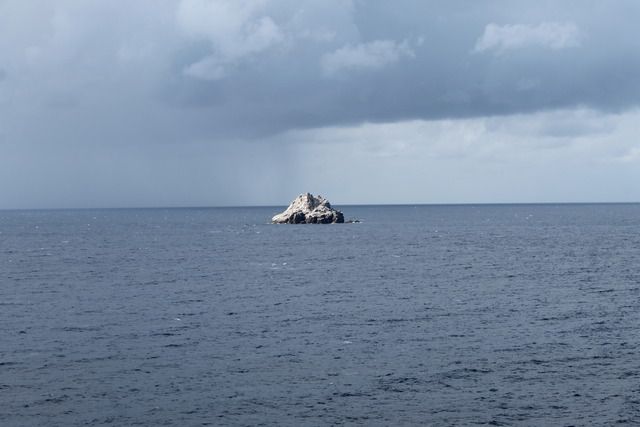 Time proceeds, vacation burns.

Sarah had her heart set to have us check out the national park on Saint Thomas, which Wilco was iffy about. She pushed for him to research stuff to do, and he procrastinated with the assignment. He was more of the spirit that we'd go and see what we see. Fortunately for him, Sarah eventually discovered that the national park was impractically far from our port so there was no way we could do it without dedicating the whole day to it.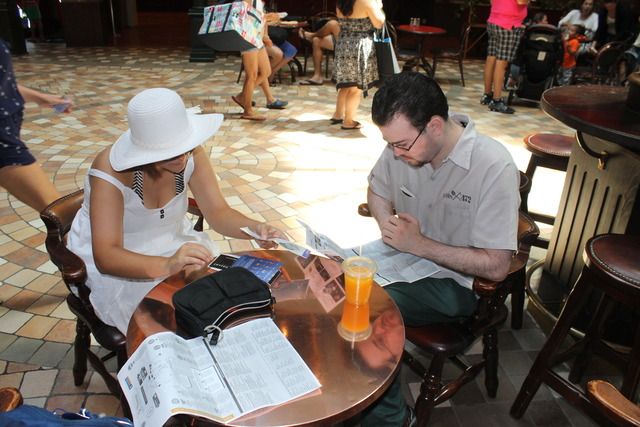 We meet the morning of our arrival at Saint Thomas. The maps acquired from dear Lucy were useless beyond the scope of buying tanzanite and diamonds, but we thought we'd grab the freebies Sarah and Wilco suffered for. Maybe find some Tanzanite cufflinks for Wilco.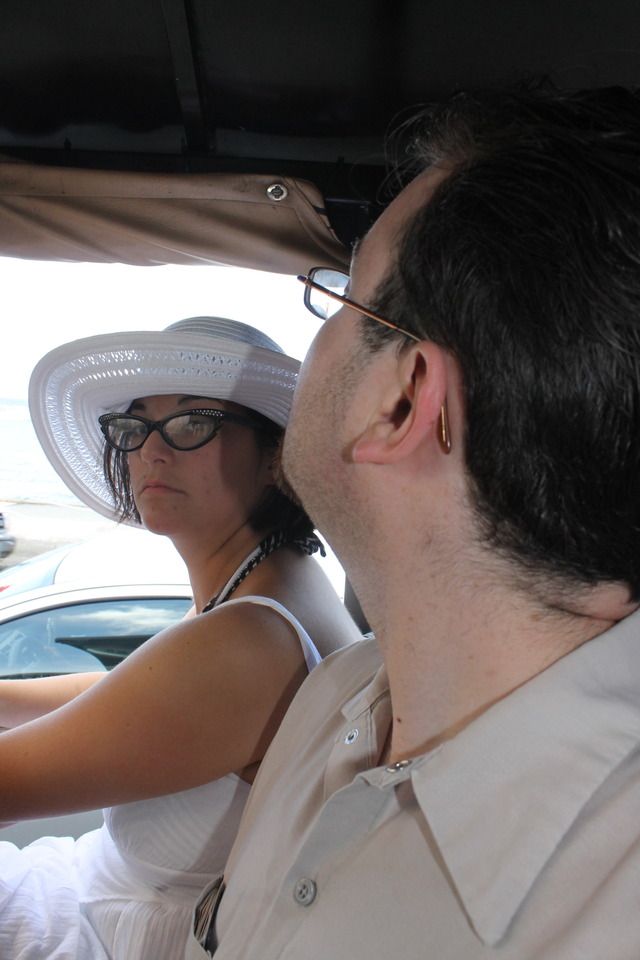 Taxis were obligatory from the dock this time. The cruise route really finds a lot of ways to nickel and dime you in spite of how expensive the cruise itself already is. We were dropped off down time by rows and rows of merchant stalls hocking the same cheap merchandise as in Nassau. We side stepped these and made our way towards Fort Christian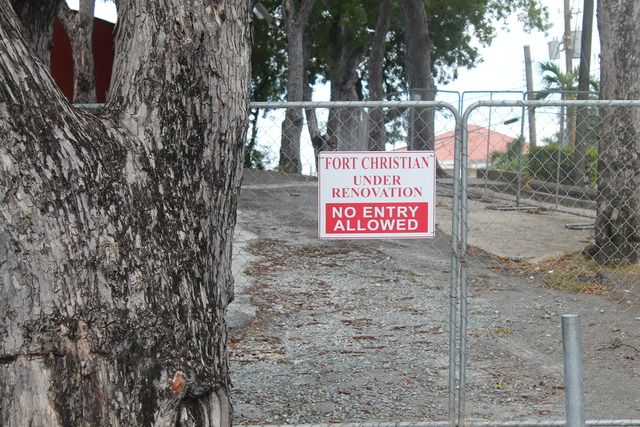 Fort was a bust. Apparently it is under renovation, even though apparently the cruise was selling excursions to this attraction. No history for us while in Saint Thomas.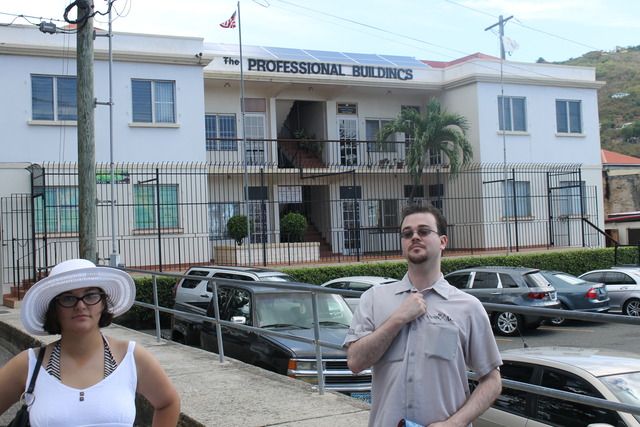 Wilco looking professional for the Professional Buildings.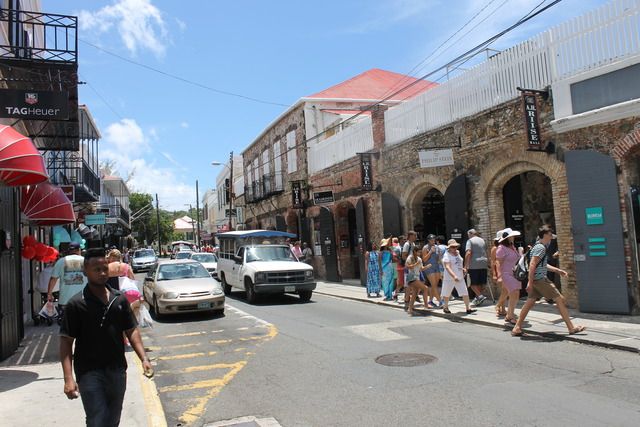 We pursued the local shopping that Lucy had chatted up so aggressively. She talked about Saint Thomas had every kind of shopping imaginable. I guess? If you want to buy diamonds and Tanzanite and nothing else. There were DOZENS of jewelry stores. We popped into them here and there. Sarah would pick up once of Lucy's freebies with coupons, which was usually a crappy piece of jewelry. She got some tanzanite studs which were microscopic, and so pale they might as well as have been glass. Something to whet your appetite to buy some REAL diamonds. Wilco got a little pebble sized garnet. I played with my yoyo, because I DO NOT care about jewelry. We were supposed to get a souvenir coin from one of the shops, only that shop turned out to be closed. This was especially disappointing for Wilco.

Efforts to get Wilco's tanzanite cufflinks were fruitless. We stopped into numerous stores, but apparently no one had anticipated a call for men's jewelry like this. Lucy's referral was worthless. Wilco bought some cufflinks eventually, but after Lucy's lectures we all knew in our hearts that if it wasn't Tanzanite sold by a certified dealer Wilco would basically be wearing garbage on his sleeves.




After that waste of time, we stopped in at the MAGIC ICE attraction. It promised an astounding ice cavern filled with fine ice sculptures. It was basically just a large walk-in freezer, baiting people with a chance to get out of the heat. Sarah was very reluctant to spend the money on this, as it was way too expensive.




They made us put on these goofy winter coats and gloves. Really, the photos for this place was the best part.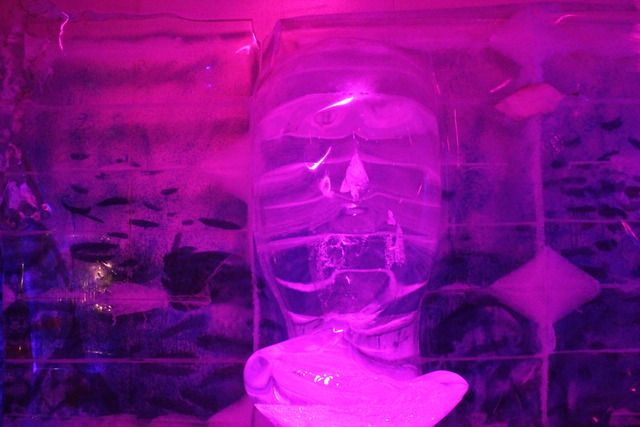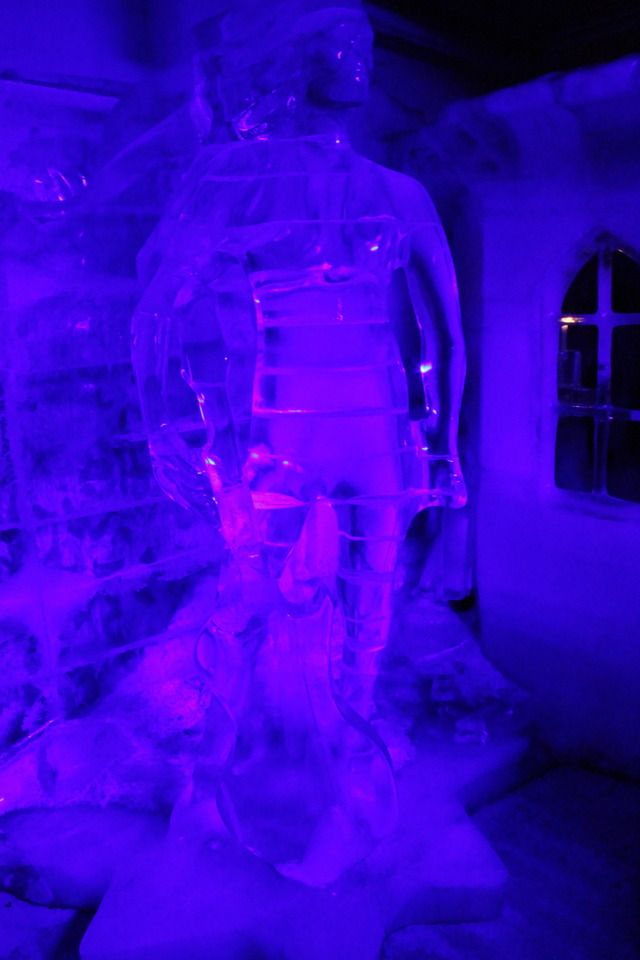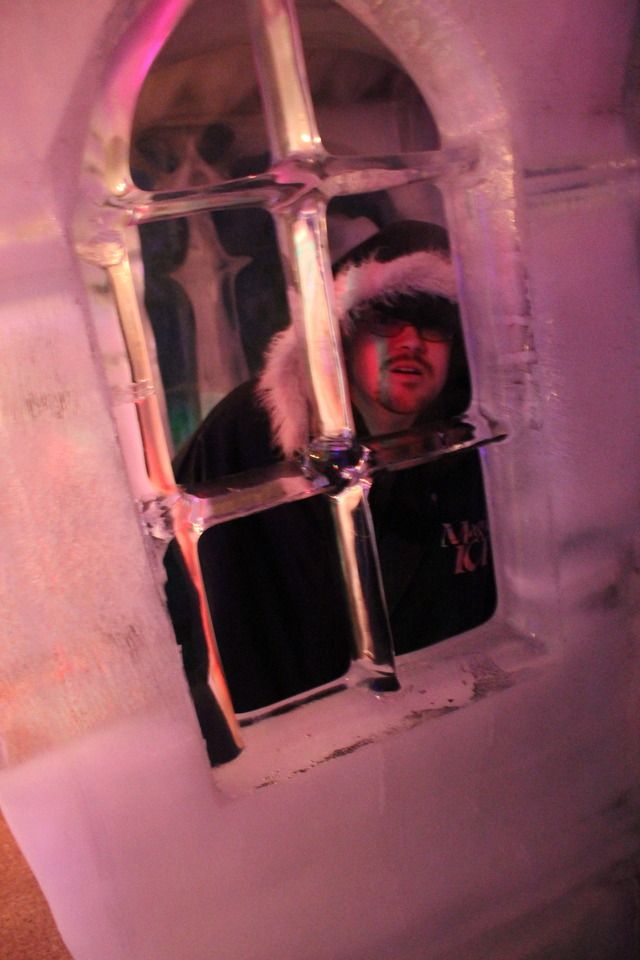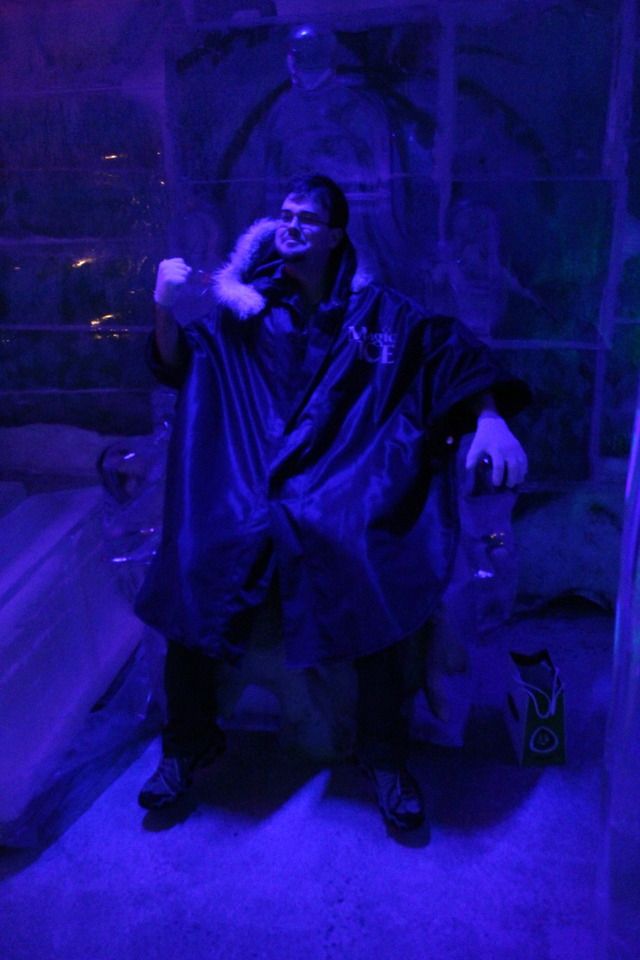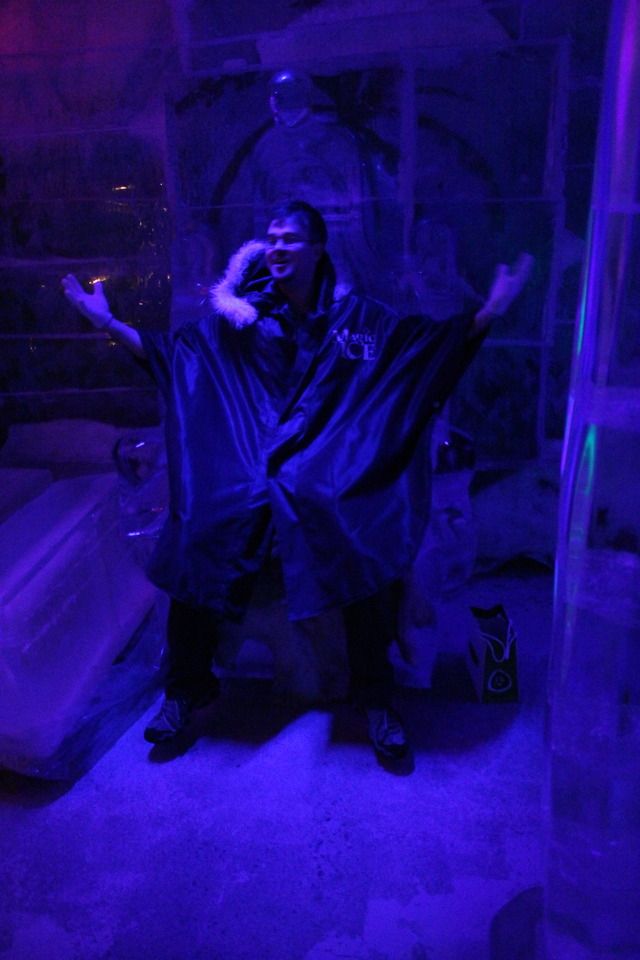 The Frozen Throne was an obvious photo opt, so we all struck our most regal/oppressive pose.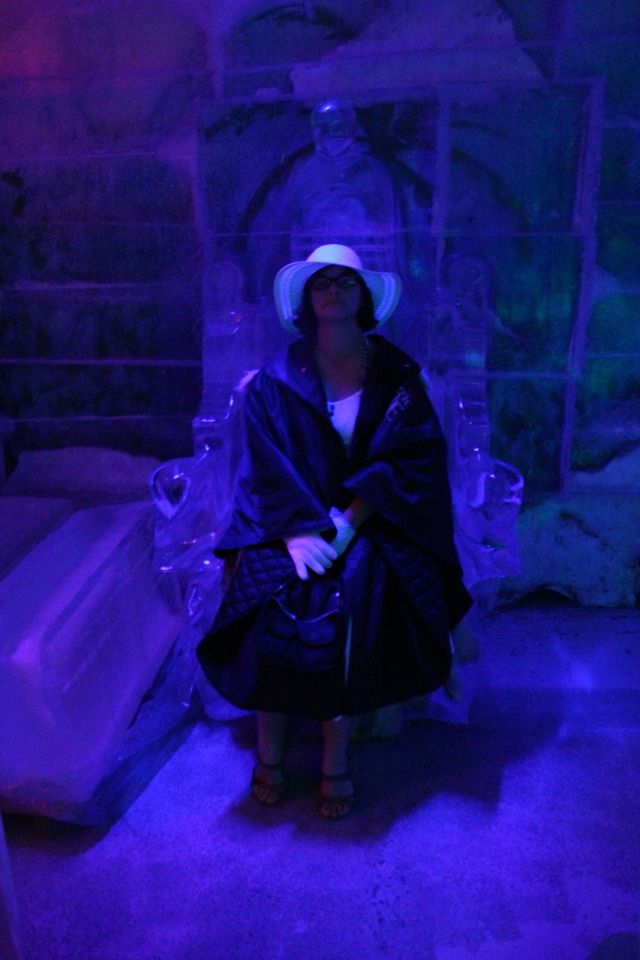 Victorian queen.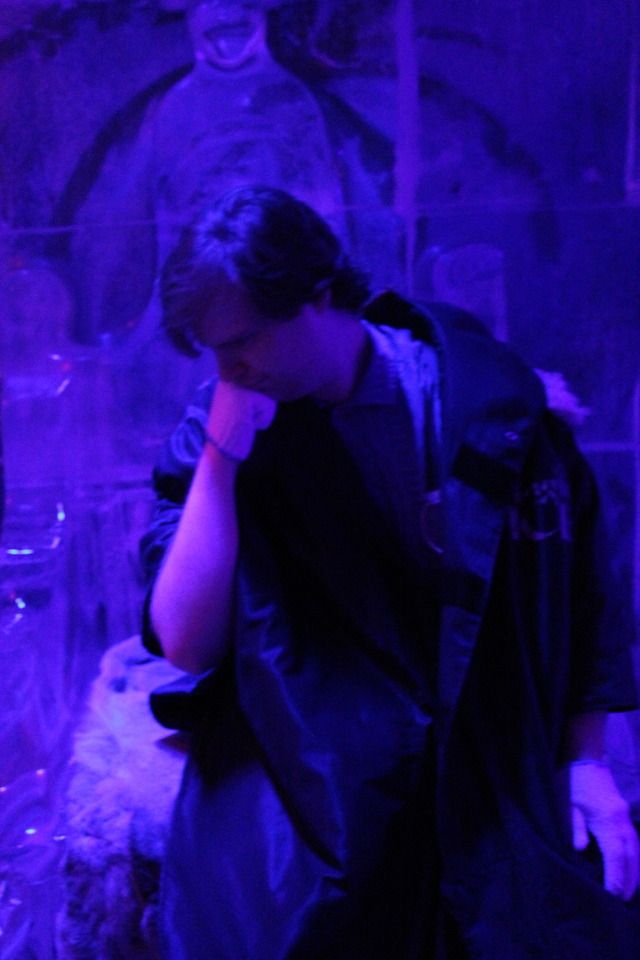 Man, I look a lot less like Eddard stark than I'd hoped for this.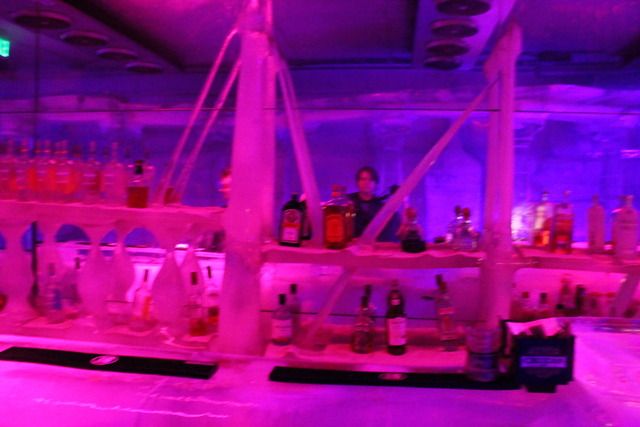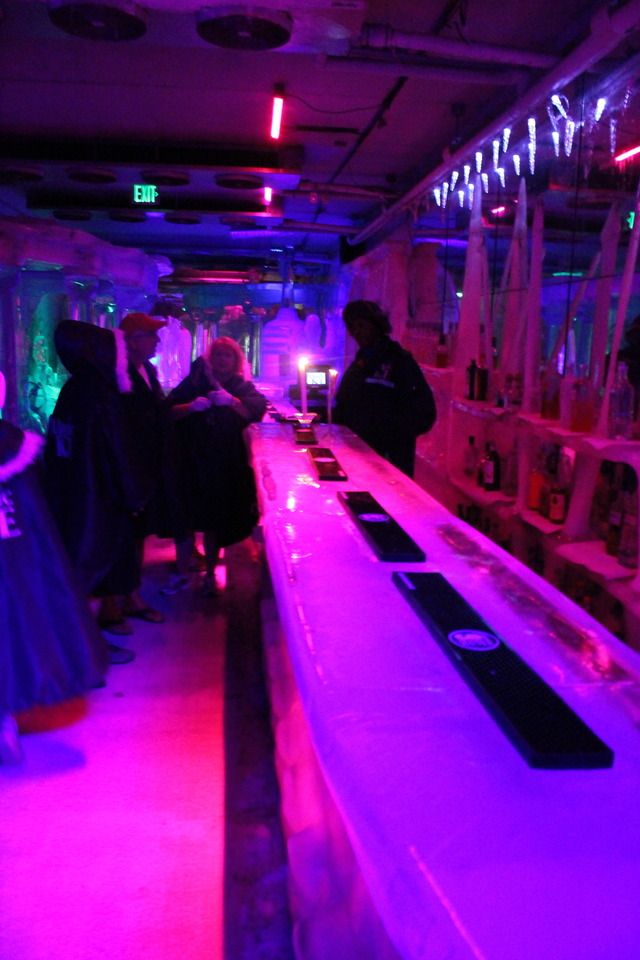 We were entitled to a shot of rum with our admissions. I opted out, and Wilco advised me it was just "okay."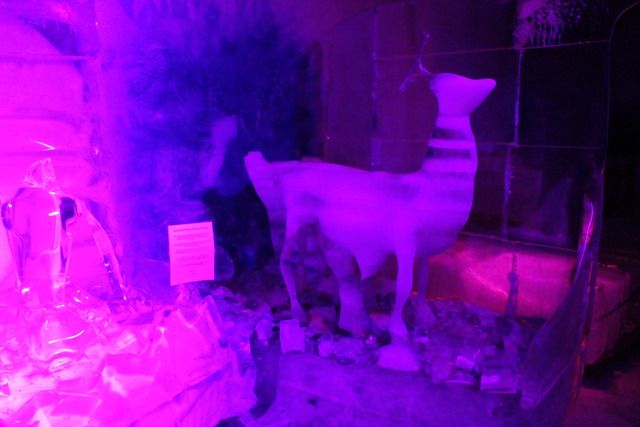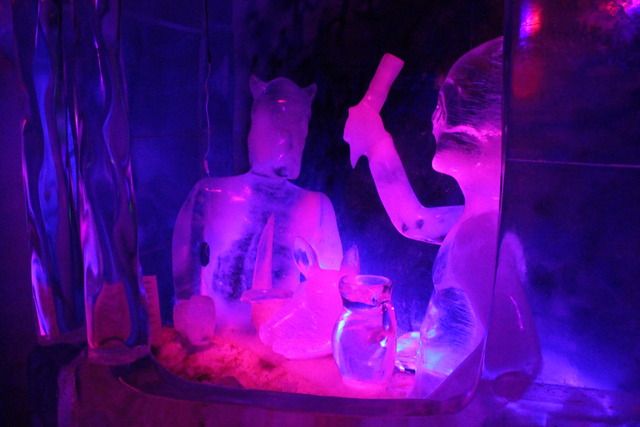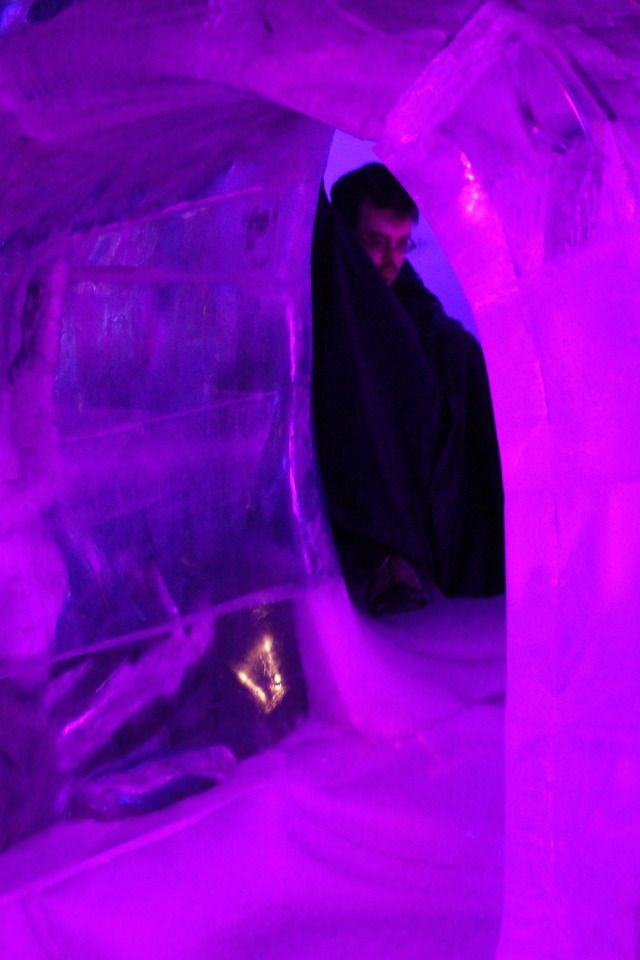 Wilco's stint with the Night's Watch was short lived.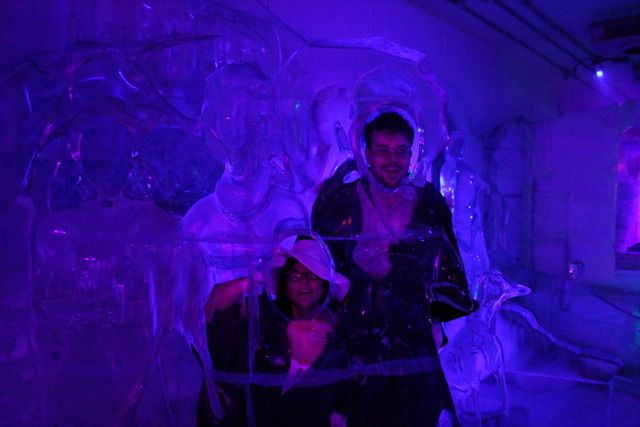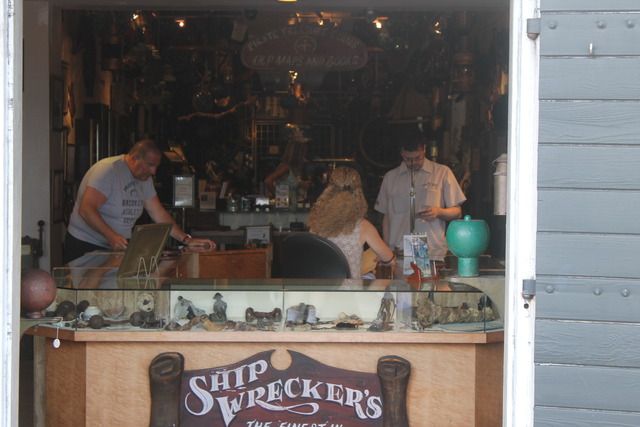 Afterwards, we went to an antique store. About the most interesting place we found as it sold hardly any diamonds or Tanzanite. Wilco contemplating buying old maps and/or antique coins.

We had lunch at an extremely crowded bar. I had a TERRIBLE burger topped with grilled mango, and Wilco and Sarah split a conch dish in order to prove once and for all that conch meat exists. It does, and it's really rubbery. Sarah argued the virtues of spending the rest of our time ashore swimming, but Wilco vastly preferred to continue exploring the town. We eventually decided to split up.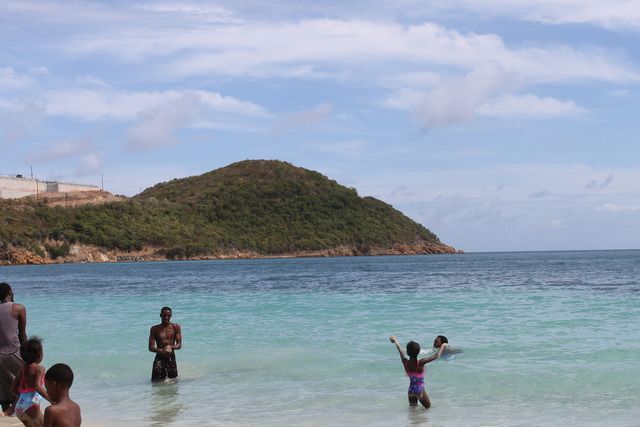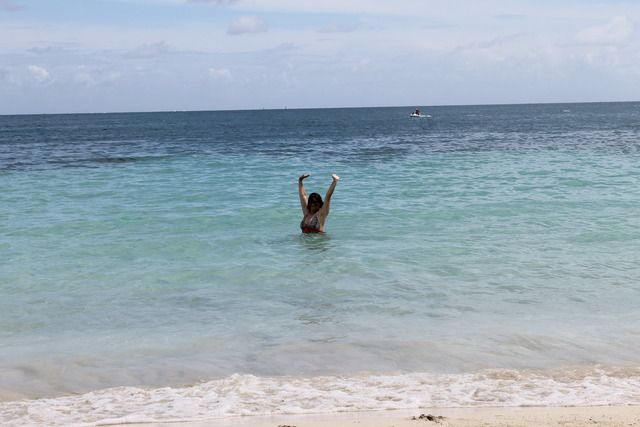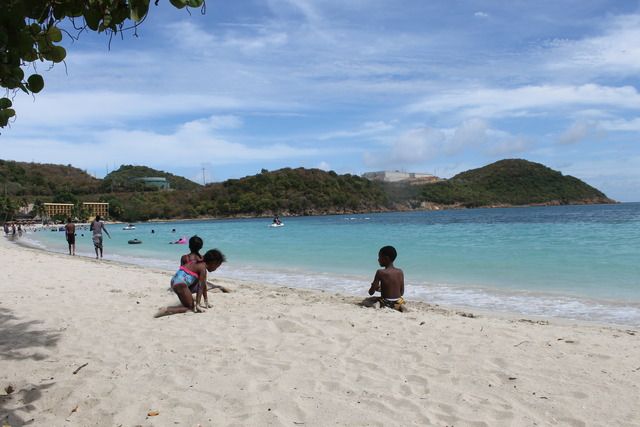 Sarah and I went swimming at Emerald Beach. It was a decidedly NON-touristy beach. Populated almost entirely by locals. The only reason we got the Info Booth lady to disclose the existence of this beach was due to us not having enough time left to drive half way across the island to swim. Sarah kept remarking on how clear and beautiful the water was. She also schemed and plotted to find a way to trick Wilco into swimming, as swimming in the Caribbean was the whole point of going in her mind. (Wilco would later argue that he'd already swam in the Caribbean as a child, so there was no real need.)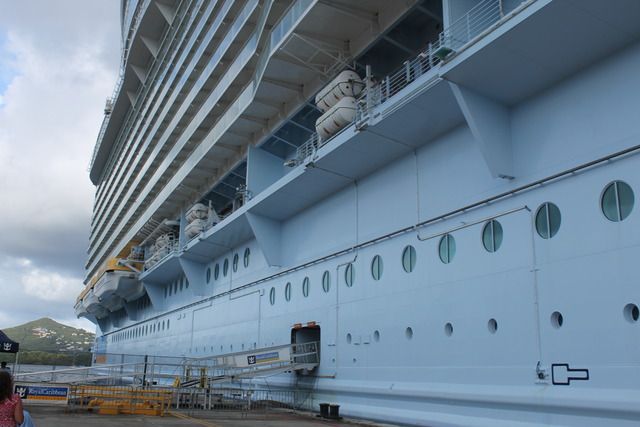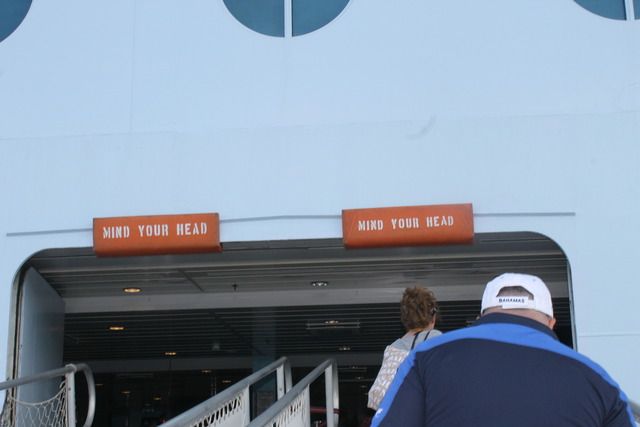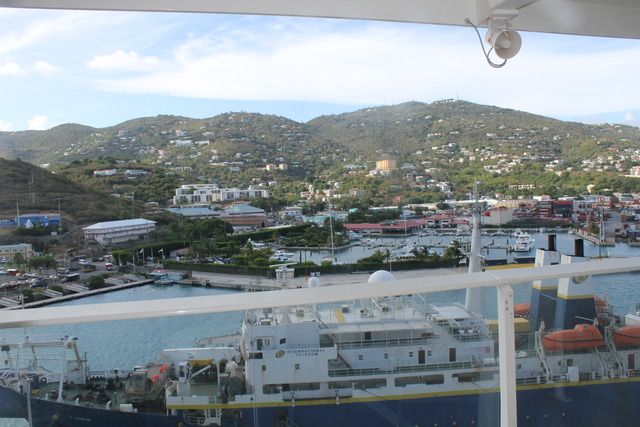 We regrouped on board for dinner. I usually catch hell for this, but I'm losing track of where we ate on what night. I'll cover a few in one go here: Chops Grille was lovely. It was probably my favorite. Quiet enough to have a conversation, and straight forward meaty dishes. I had the lamb. The Bistro was extremely peaceful, with low calorie dishes, soothing ambience, and low-key décor. They made up for the low calorie by bringing us lots of food we didn't actually order. Somewhere in there we had a meal at the public My Time Dining, which was the main dining area. Nothing too fancy but a huge dining area with an elaborate task force of waiters clearing, serving and ushering with the elaborate clockwork needed to serve this many passengers. Every lunch we had aboard was at the Wind Jammer, which offered good variety and inadequate seating. First time in we had one of our seats stolen out from under us. Wilco would later have a lunch at Johnny Rocket's and report it was as deserving of ridicule as he had predicted.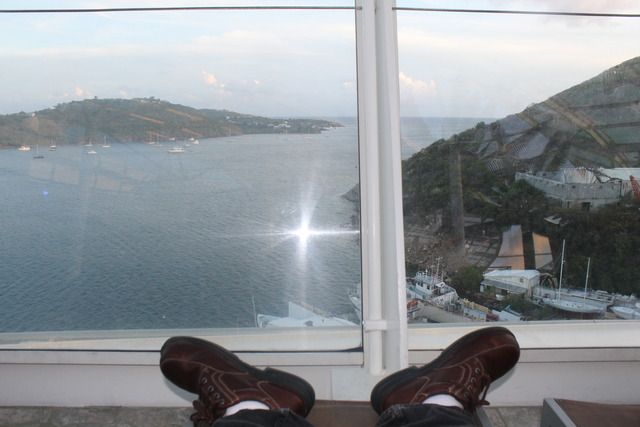 I'd rather be playing video games.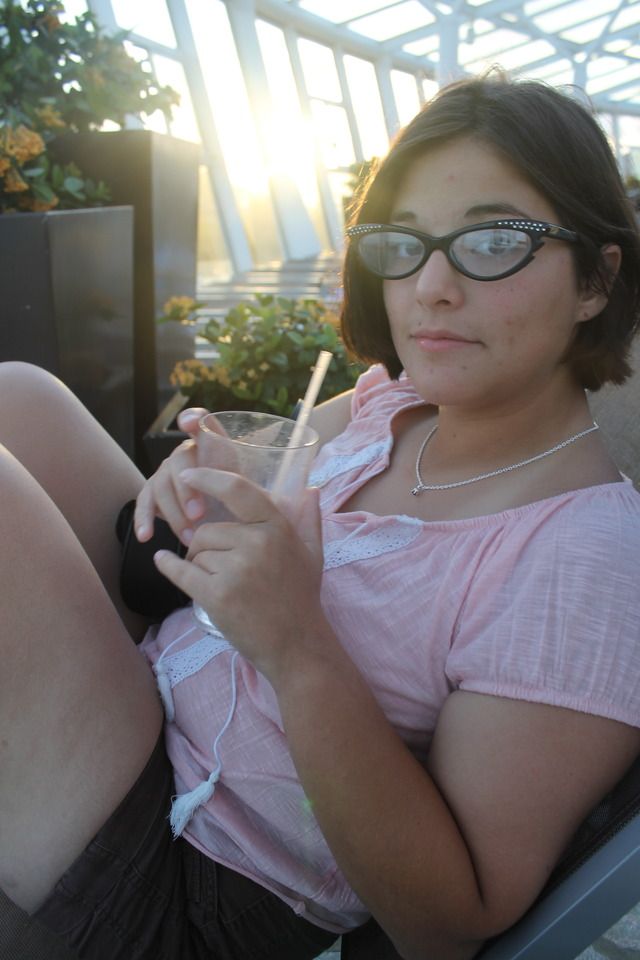 Sarah enjoyed swimming and lounging in the solarium. She also enjoyed dragging me along to do these things too. Attempts to get Wilco to join us were shot down.





Saint Martin was the day after Saint Thomas.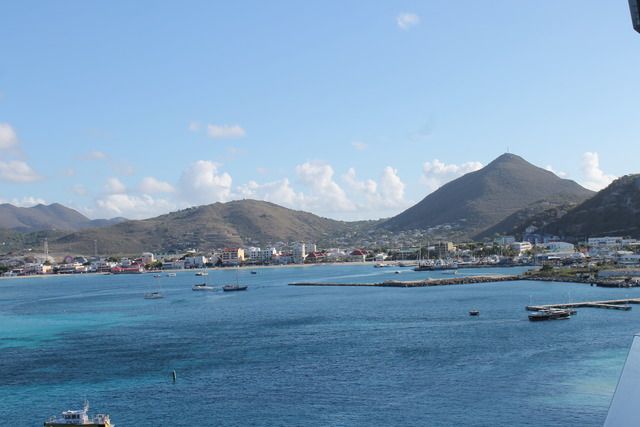 Sarah had managed a bit more reach that in Saint Thomas. We found some magazines describing the islands. Saint Martin was divided between and French and Dutch side, and we were docked in the Dutch side in Phillipsburg city. Sarah had wanted to get away from the touristy stuff, and also wanted to check out the French side, so the plan became to take a cab to the French side then make our way back. We chose to check out Marigot city.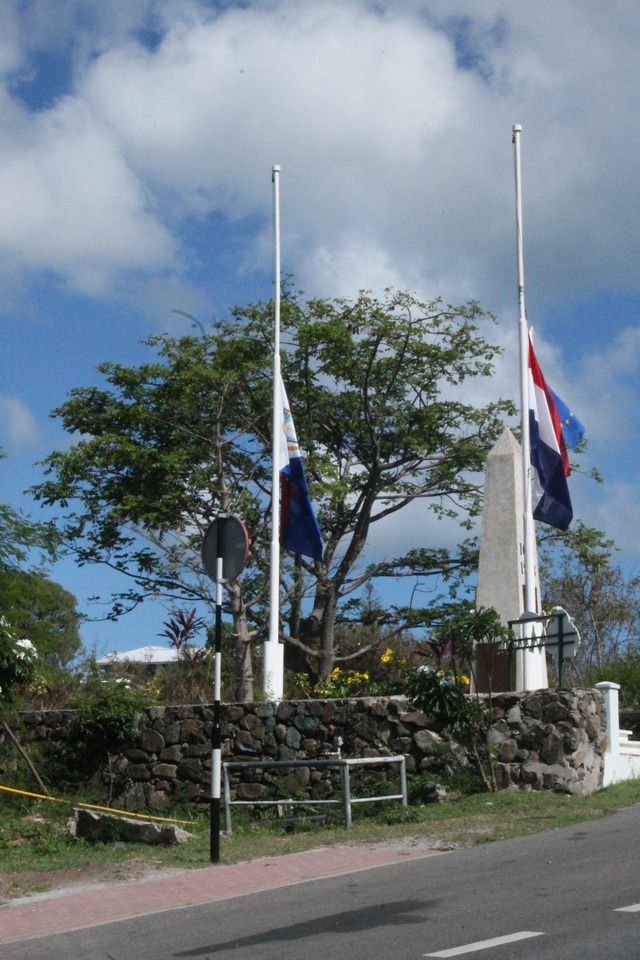 The point where the two countries meet.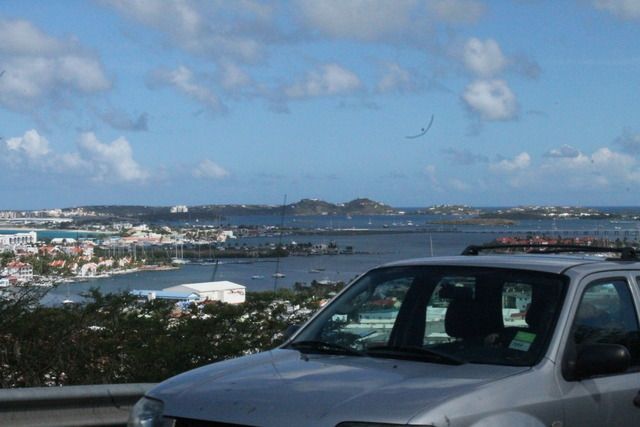 Cab driver was impressed we'd thought to go to Marigot, as he stated it was a nice place. Cab ride was scenic, with many round abouts. Apparently the island had tried stop light intersection once, and found they congested everything in a way that round abouts did not.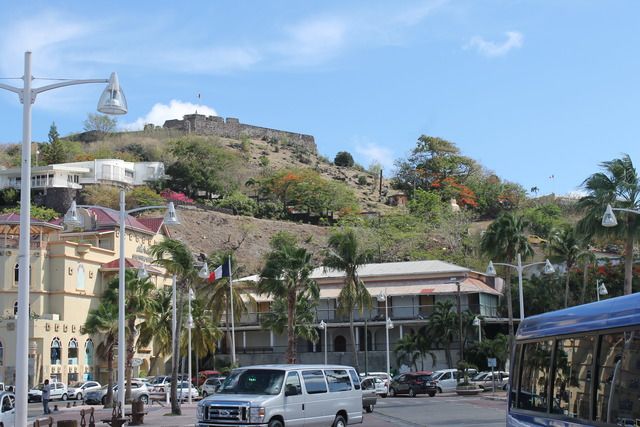 Marigot was far less touristy. Much more lived in. We had to avoid letting Sarah get too close to local groceries stores to deter her from checking them out. They had a fort as a historic site, which we decided to check out since we got blue balled for forts on Saint Thomas.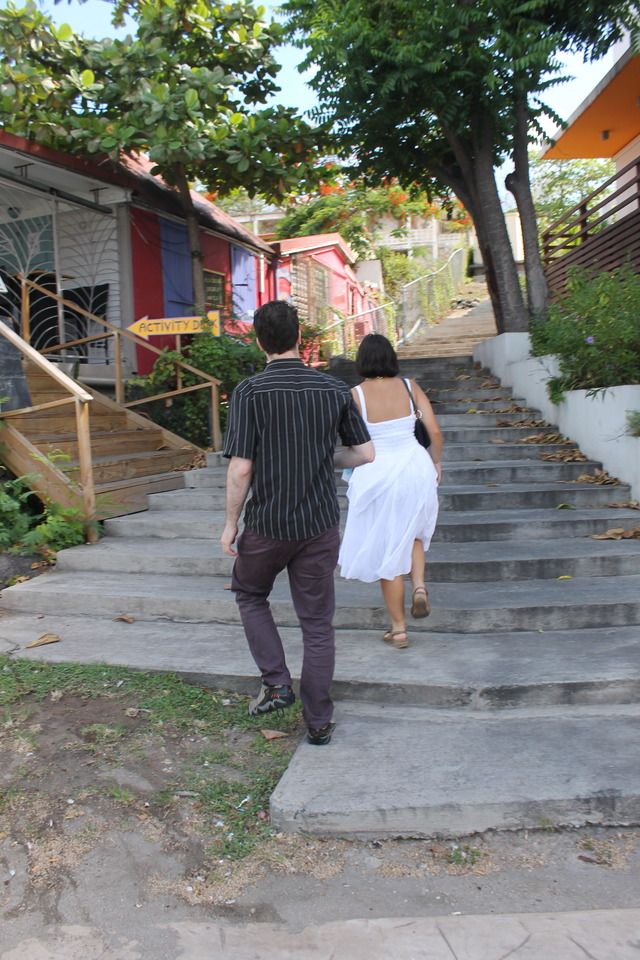 The fort was placed at the peak of the hillside overlooking the town. It was built there to deter British soldiers and privateers from taking the city. I felt it had to be very effective, because the stairway to get up to the fort was very arduous. Especially since I was the designated pack mule with Sarah's backpack.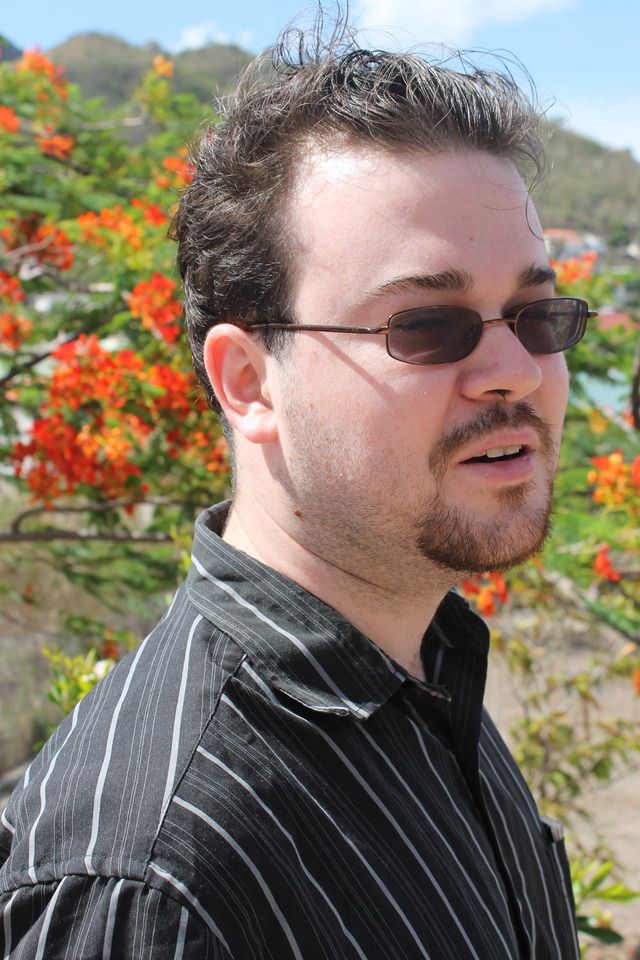 A delicate rose among flowers.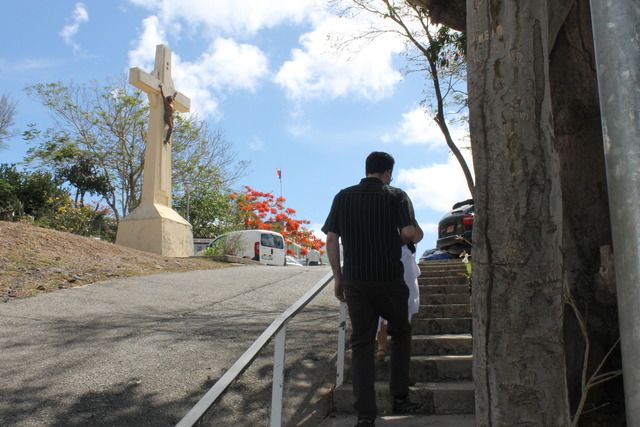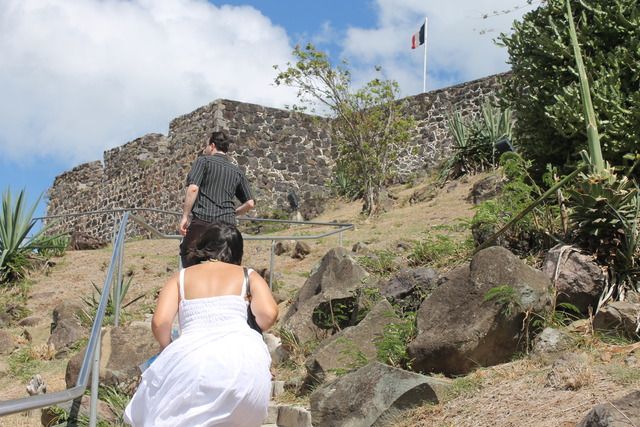 We climbed and climbed, and remarked on how large the lizards were as they clamored over the steps around us.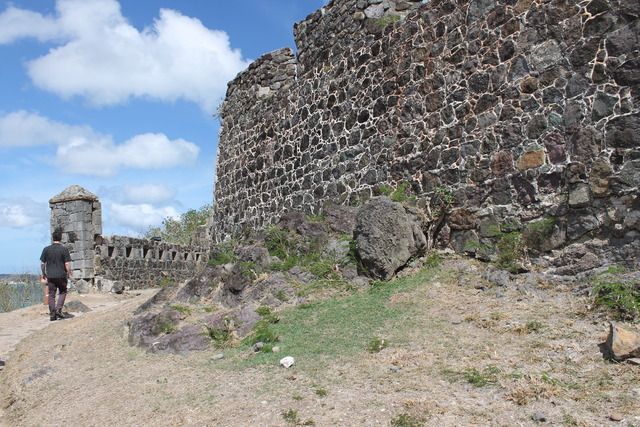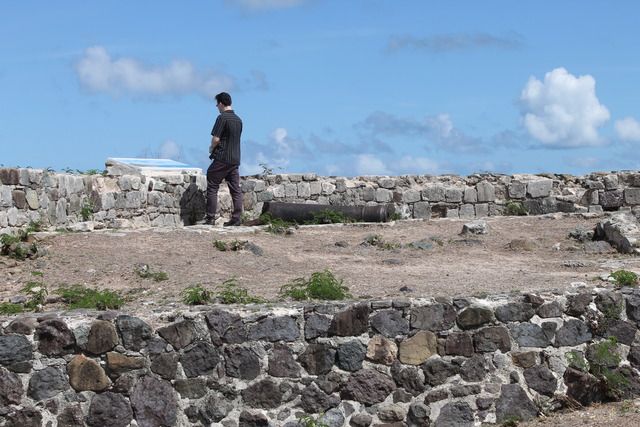 Wilco snaps a relic cannon in half.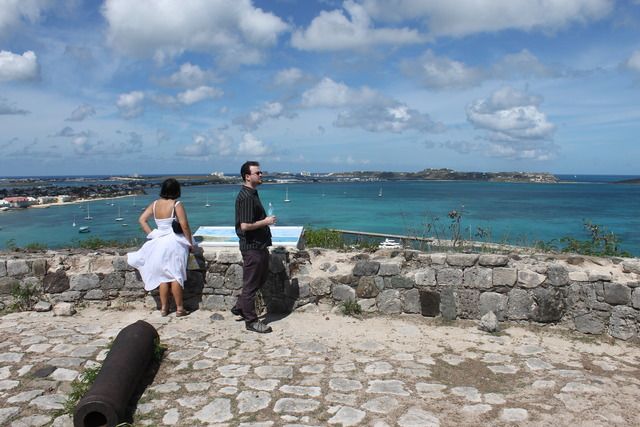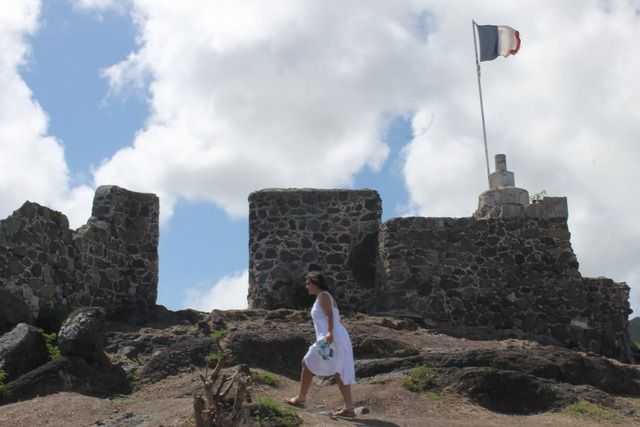 The peak offered great views of the town, sea, and wilderness.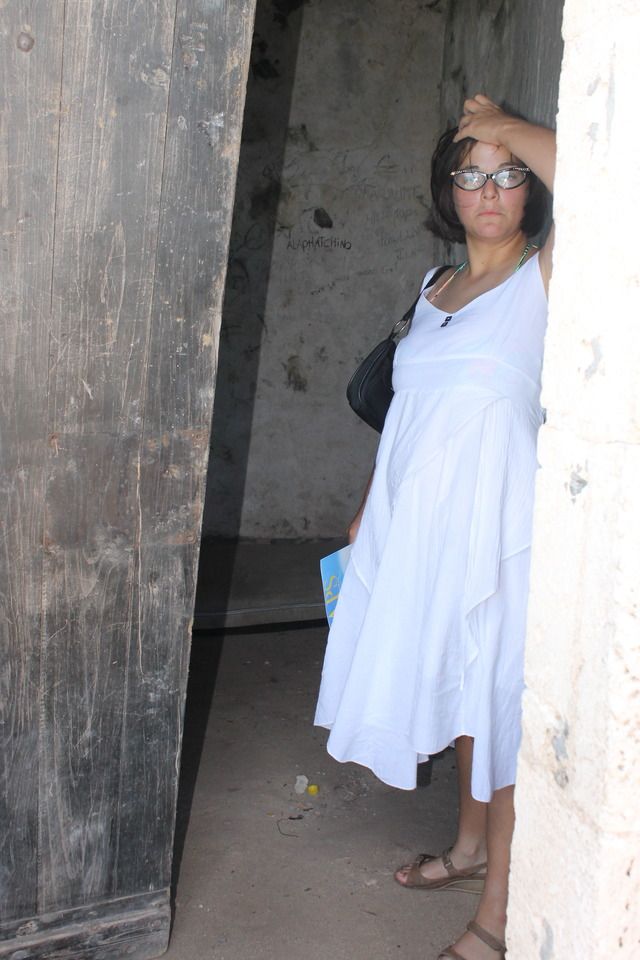 We found a spooky run down shed with an upturned mattress in it. Someone's hideout at some point.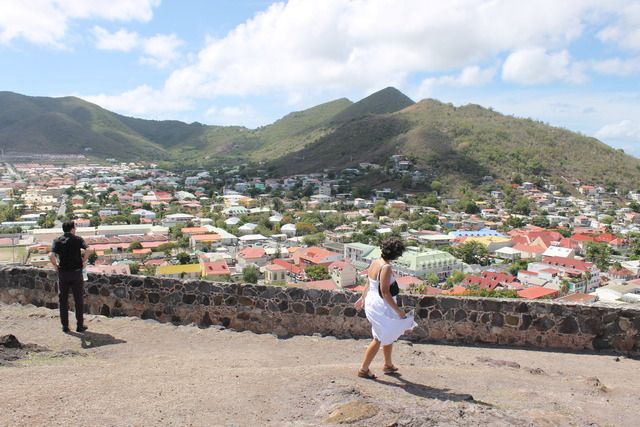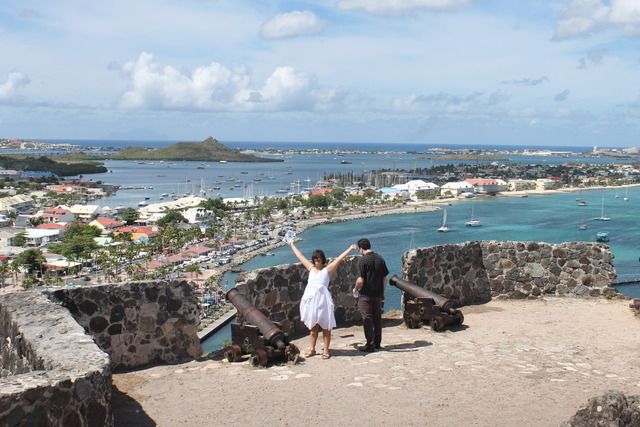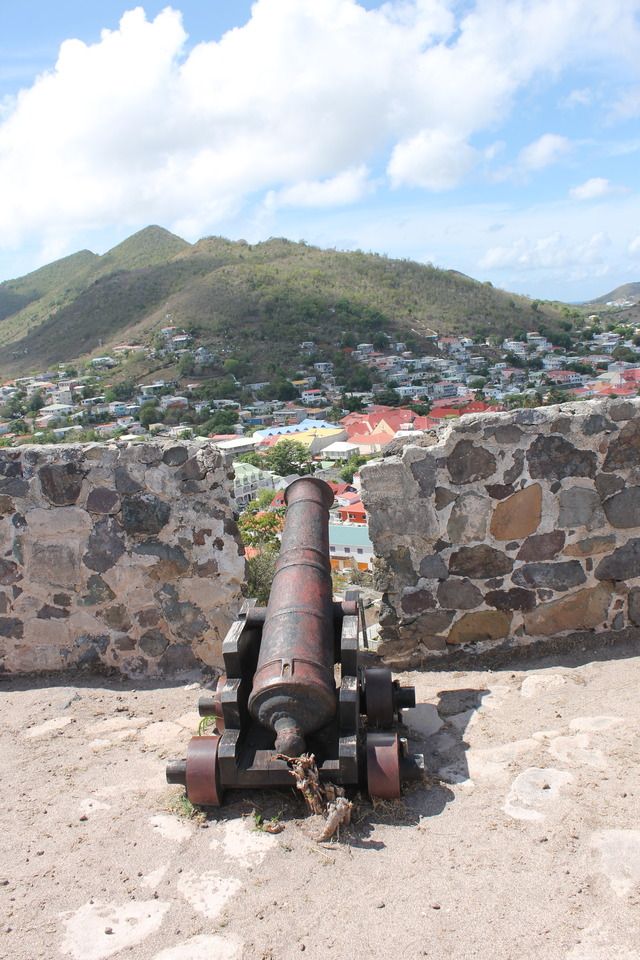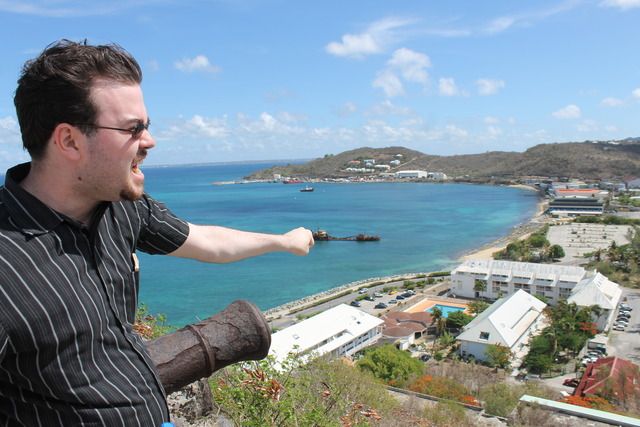 Destroy the city with artillery.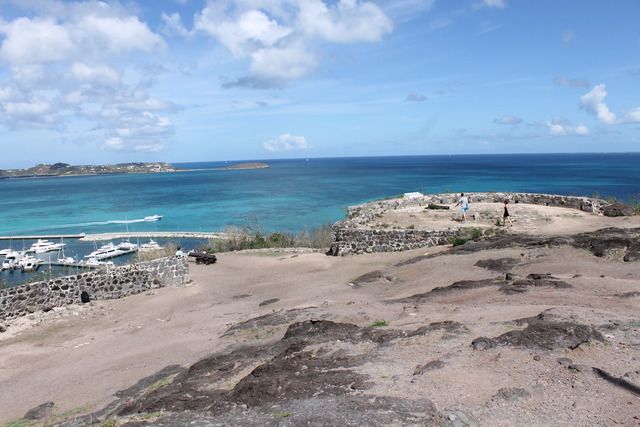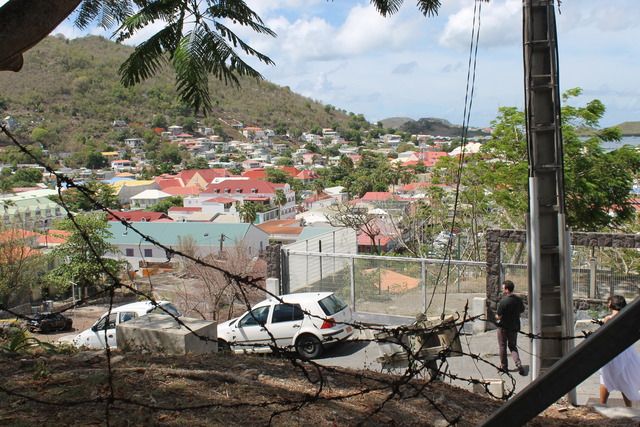 We descend into the city to explore.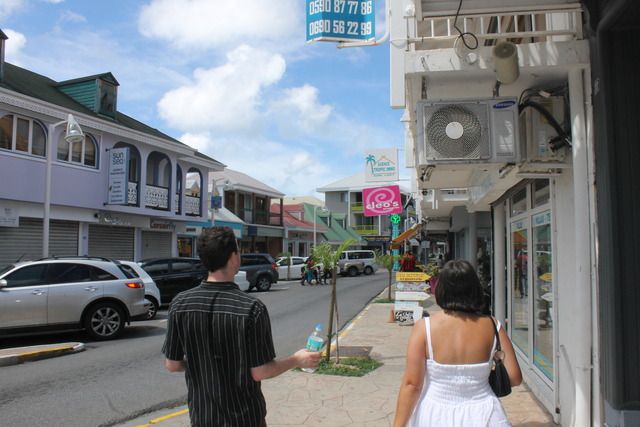 Shopping was much more varied here. Still nothing for me, though.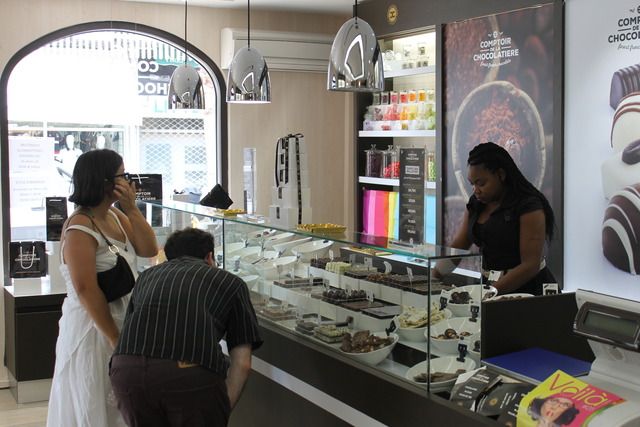 Sarah stopped into a confectionary shop and bought some chocolates. It was so hot they were liquefied before Sarah got to really enjoy them. Wilco, more sensibly, had an ice cream that he consumed immediately.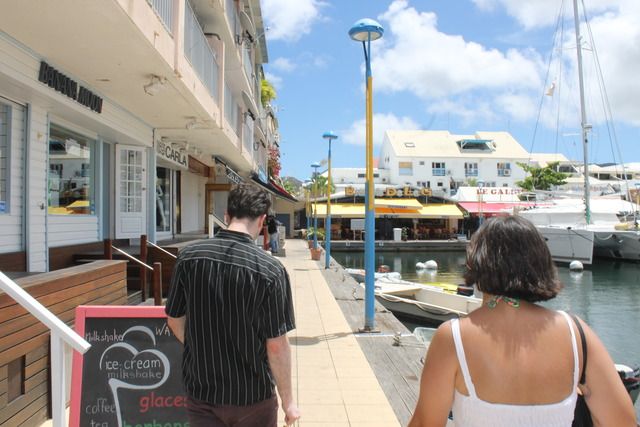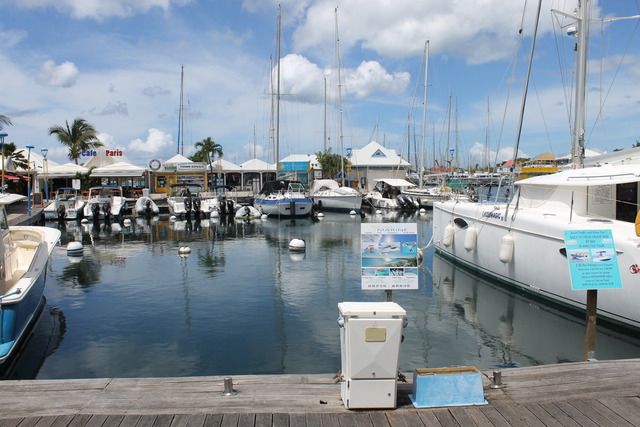 We walked around the Marina, had lunch at an Italian place. Sarah and I had European styled pizza with Oragina. Sarah was ecstatic to get European style orange soda again, as she hadn't had any since Italy.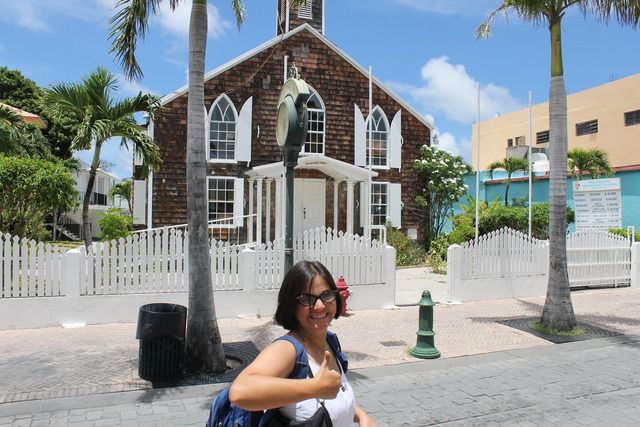 We made our way back to Phillipsburg by cab. The French side had proved a successful move. Almost no tourist traps and was all around very classy.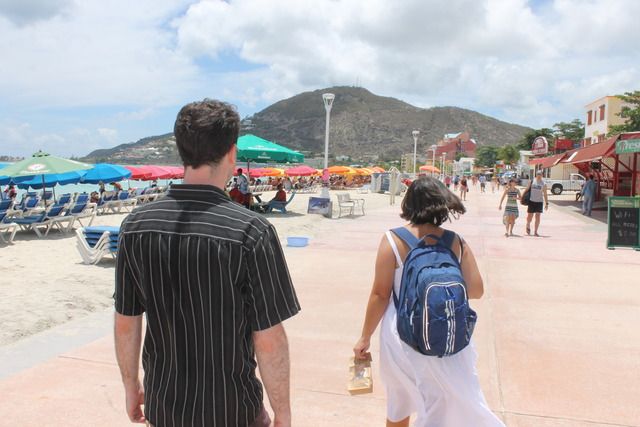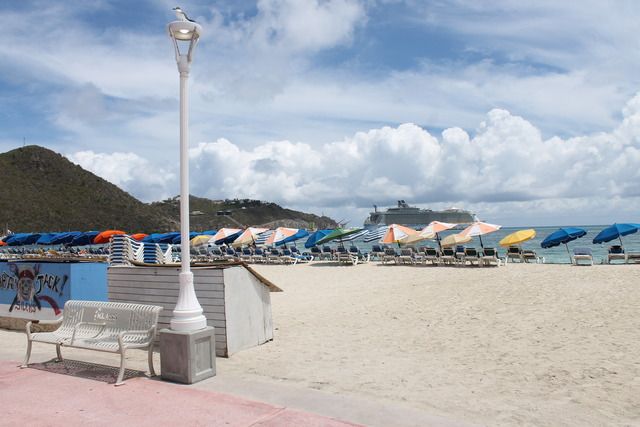 Phillipsburg, on the other hand, was EXTREMELY touristy, with plenty of places to BUY DIAMONDS. They had a long boardwalk with locals aggressively renting out lounge chairs and umbrellas on the beach. Sarah, of course, wanted to swim.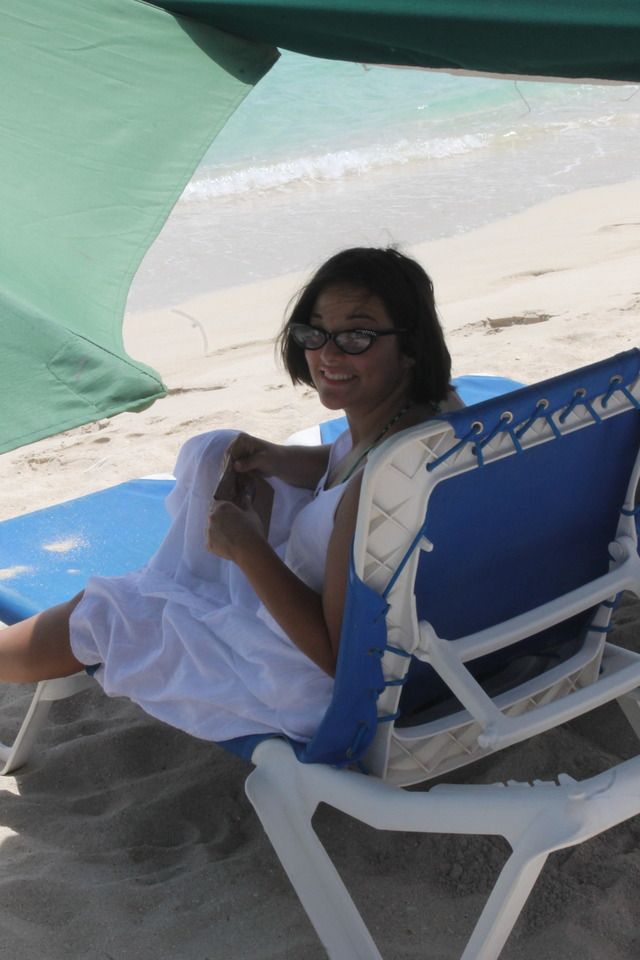 I paid for a chair for Sarah. Wilco wanted to explore and I went with him. Plan was for us to swing back and meet up with Sarah afterwards, provided she wasn't kidnapped and held for ransom.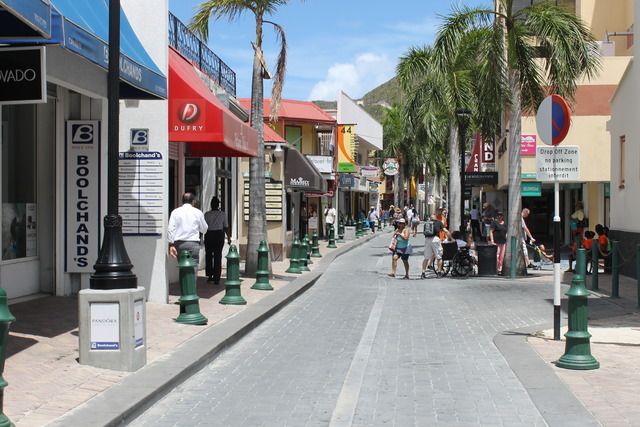 The streets were sealed off from car traffic with lots of shops. Wilco checked out the local specialty alcohol, Boysenberry rum. It was not great enough for him to warrant buying any after the free sample. The greater draw was huge bottles of water for a dollar.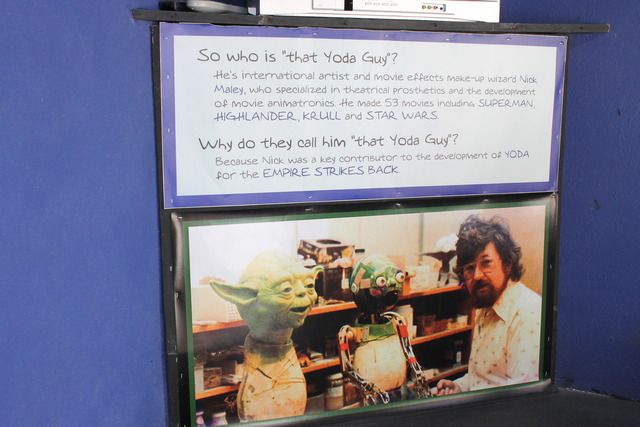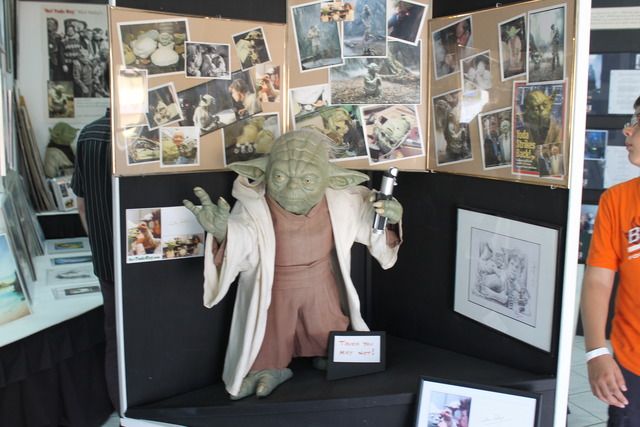 Wilco and I checked out the "Yoda Guy" Star Wars museum. Because why wouldn't there be a Star Wars museum in the Caribbean. The place was basically an exhibit of all the work a special effects guy, the creator of the original Yoda puppet.




The guy came across to me as extremely self-important and self-congratulatory, with numerous videos of himself talking about how great his accomplishments were. He was even IN the museum itself talking to people about himself while videos of himself were playing in the background doing the same.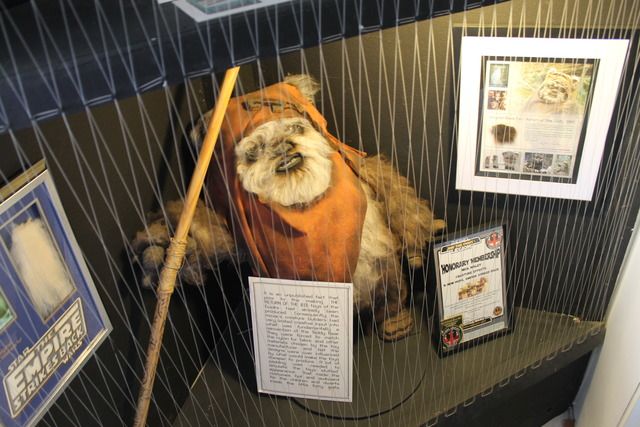 Wilco was less (more?) cynical, suggesting he was just capitalizing on a storied career to fund his Caribbean retirement. The museum was short. Arguably not worth the price of admission, but worth a laugh.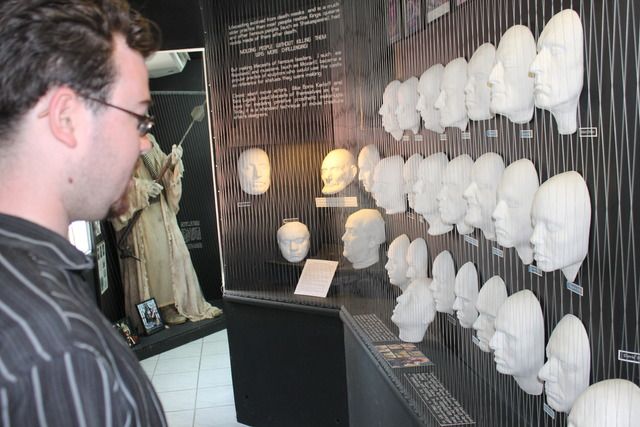 We saw far more death masks on this trip than I ever would have guessed. Though most of these were originally for movie effects. Most of the actors involved were now dead.




Wilco has found his new home.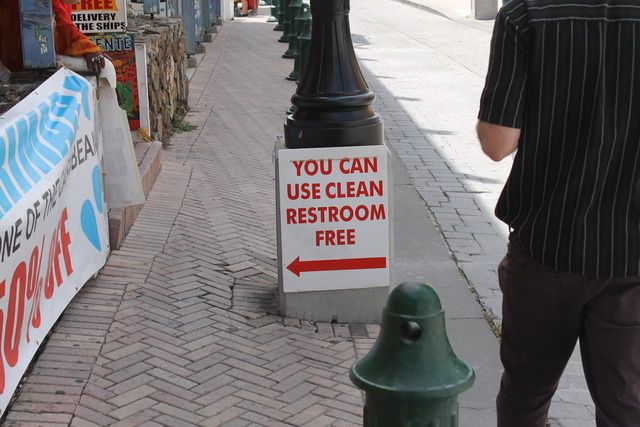 Now that's some serious pull.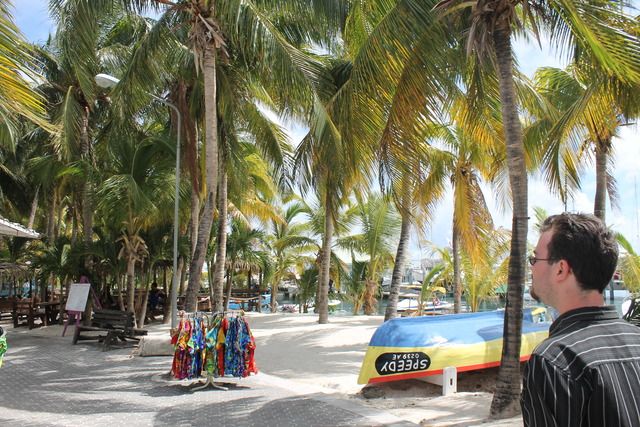 Walking the length and back of the boardwalk, Wilco and I went to regroup with Sarah.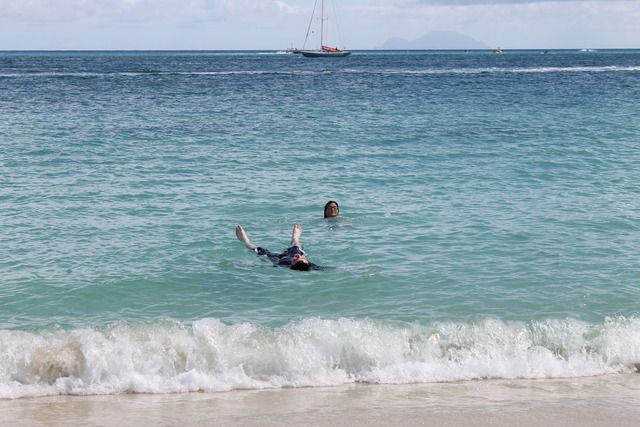 Wilco finally fell into Sarah's trap. We had a good solid couple hours until boarding, and Sarah had the foresight to have us pack Wilco's swimsuit. Wilco decided he might as well go for a swim, and Sarah had her petty victory.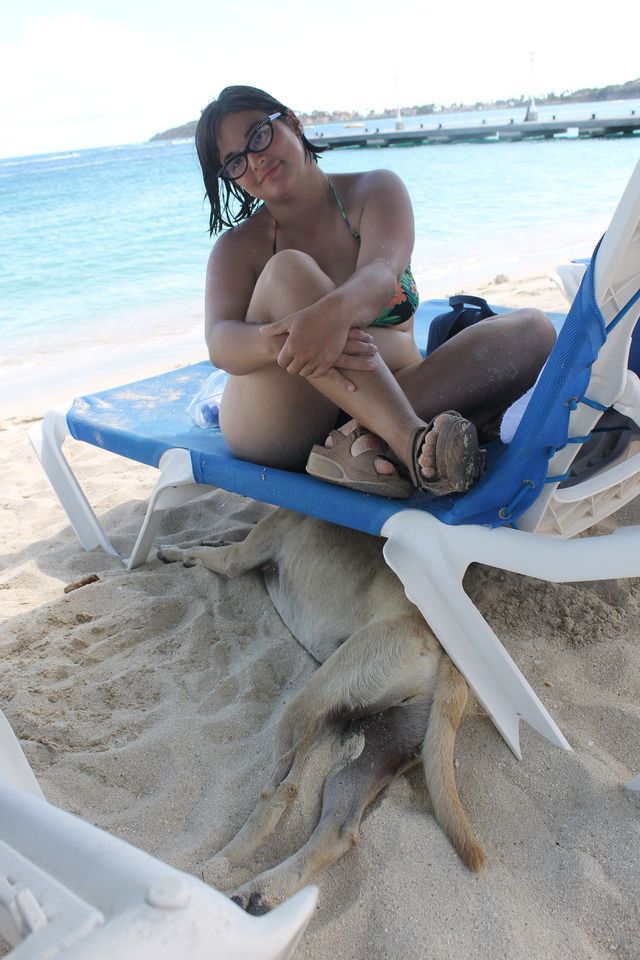 Sarah's stay at the beach came with the unexpected bonus of extra DOG.

We had a bad experience with the people renting with the beach chairs. When Sarah tried to go to get water, the rental guy offered to get her one. He fetched the water and sprung a mandatory tip on her. He told her she was an "angelfish," and made her feel uncomfortable. When we returned, he started SHOUTING at us thinking we were trying to use the chairs without paying. I had to very firmly explain that I was meeting with my wife. He called her an "angelfish," and walked off.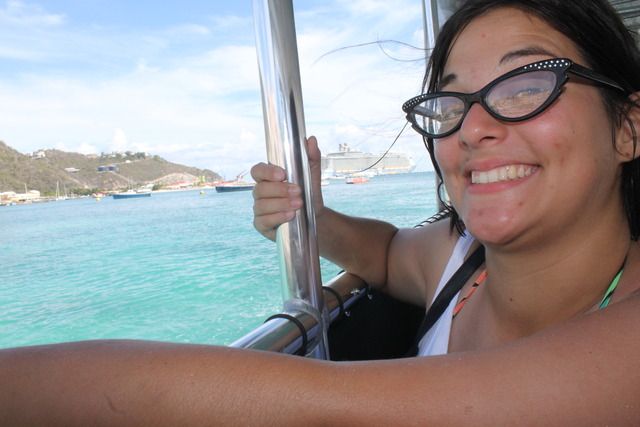 We rode a water taxi back to the port. The crew of the water taxi made a special point to give us a speech about how if we enjoyed our time in Phillipsburg we sure did have the opportunity to pay the crew an extra gratuity if we felt so inclined (if you would be so kind). This wasn't uncommon both on and off the ship, and the frequency of which we were reminded that tips were encouraged really wore on my patience after a while.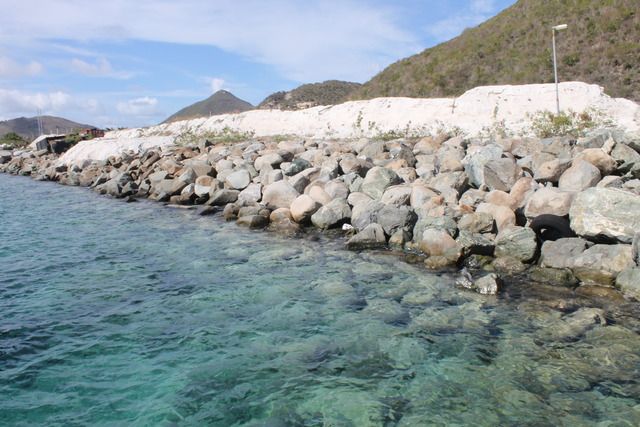 Before we were all aboard, Sarah bought some Cuban cigars for Stevie Jay as a present. I expressed the concern that we might not get them through customs. Wilco advised, as an an expert in the shipping industry, advised we could probably get them through customs if we declared them without mentioning they were Cuban, and brought them in via a carry on. Sarah was confident we'd be fine up until the point where we actually had to pass through customs, which she had an anxiety attack. (It was fine.)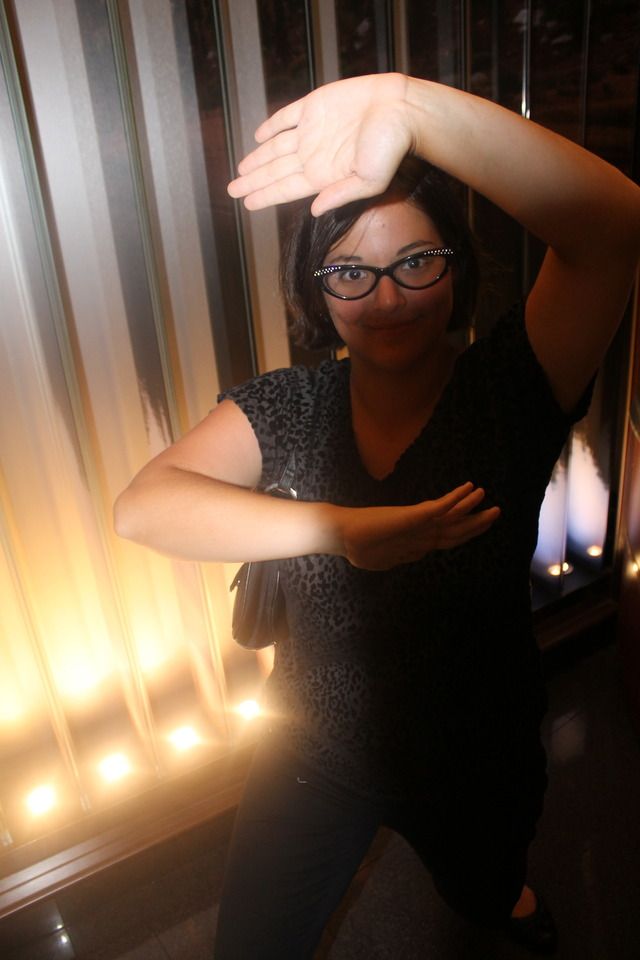 The rest of the trip was spent sailing back to Great Country America. We mostly loafed around for the rest of the cruise. Sarah was very insistent that we had to do as much as humanly possible, while Wilco and I were mostly of the mind to be as lazy as possible. I'll recount some of the remaining points of interest without worrying too much about when it fell chronologically.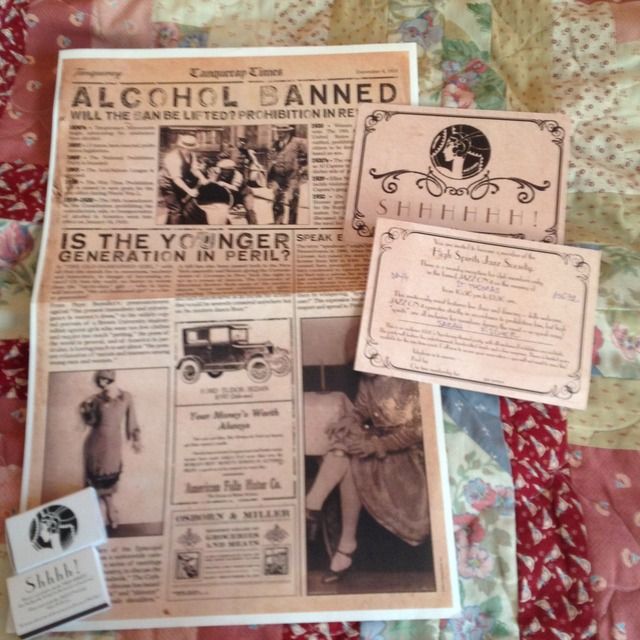 Wilco had signed us up for the Prohibition event aboard the ship. This was an excuse to dress up in period clothes, drink, pretend it's the 1920s, drink, and party. Since I don't drink, I had to pretend I was a narc and just appreciate the historic fun of it. I unfortunately don't have any photos of the Prohibition party, since a DSLR camera would be fairly anachronistic.

We wore our formal wear, since we did not have the money to buy or room to pack actual costumes. Wilco went to the event as Leorio from Hunter X Hunter, since he was present for the duration of prohibition canonically. The lead up was fun, we were left formal invitations with pins to prove our membership, and the password "Blind Tiger" to get in. We didn't actually need to use the password, since some room attendants (including Wilco's) neglected to lead the password and pin in their rooms. Wilco was insistent on getting the pin he was owed no matter what.

The event was held on the jazz club on deck four (Appropriately named "Jazz on 4." We were all given iced tea with "milk." The wait staff were very generous and kept plying us with far more cups than we were actually drinking, especially when Wilco and Sarah had to pick up the slack for what I wasn't drinking.

We listened to jazz tunes and our hosts guided us in games and dancing. We did the Charleston, listened to a mock horse race on a radio (with horses with names such as "We're Through!" and "Shut up!"), and a competition was held for Mr. and Mrs. Prohibition based on the best costume and posing.

We, and mainly I, botched several prompts to get up to the dance floor for games. Wilco sadly did not get to be Mr. Prohibition, but the three of us did cut a rug. We were all out done by the balancing act of one of the wait staff, however, "Jumping Joe," who danced with a heavy liquor bottle on his head and spinning multiple trays.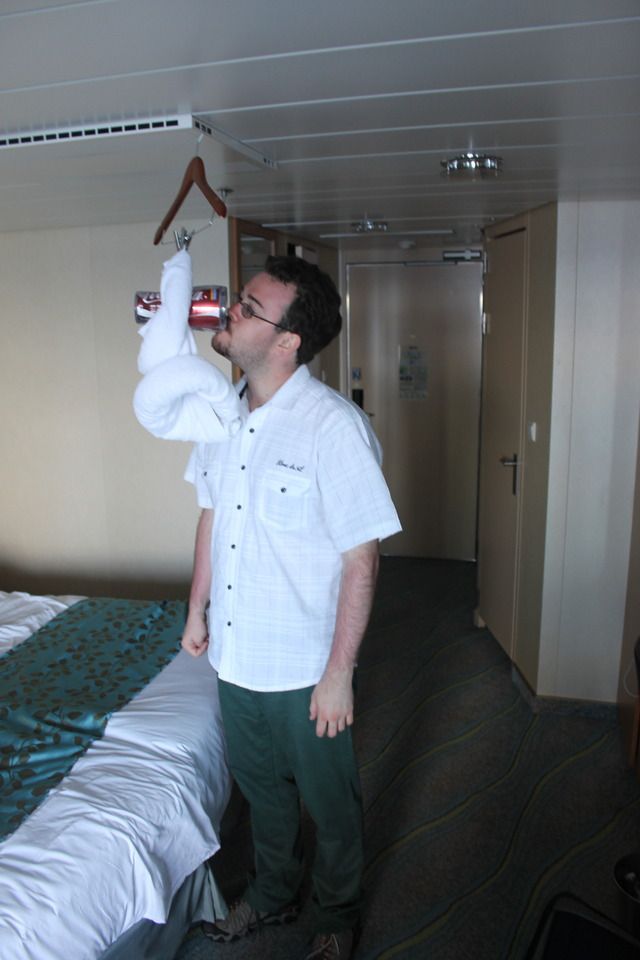 Back pedaling a bit to the topic of room attendents, towards the end of the cruise they started leaving animals made from folded towels in our rooms (such as the monkey Wilco is nursing from pictured above.) Wilco had a rock relationship with his room attendant. He was friendly but consistently disremembered Wilco's name as "Justin." This might have been fine if he hadn't gone out of his way to say the name every time he saw Wilco. Wilco just stopped correcting him after a while. When it came time for the room attendants to beg for bonus gratuities (on top of the pre-paid 18%), Wilco said no deal.

Our room attendant was extremely mousey, and seemed terrified of upsetting us. She apologized frantically whenever she came to clean while we were still in the room. Sarah and I speculated she was accustomed to having to deal with entitled, angry rich folk.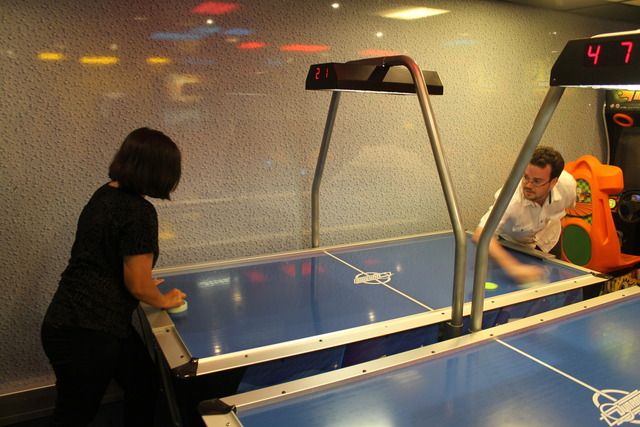 When Wilco made to hit the arcade, he asked me if I felt like getting "destroyed" at air hockey. He then proceeded to humble both Sarah and I completely at the game. It was established that Australians are geographically superior at air hockey in addition to bowling.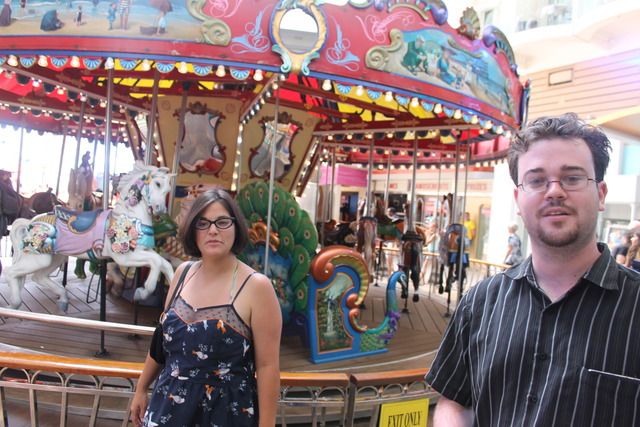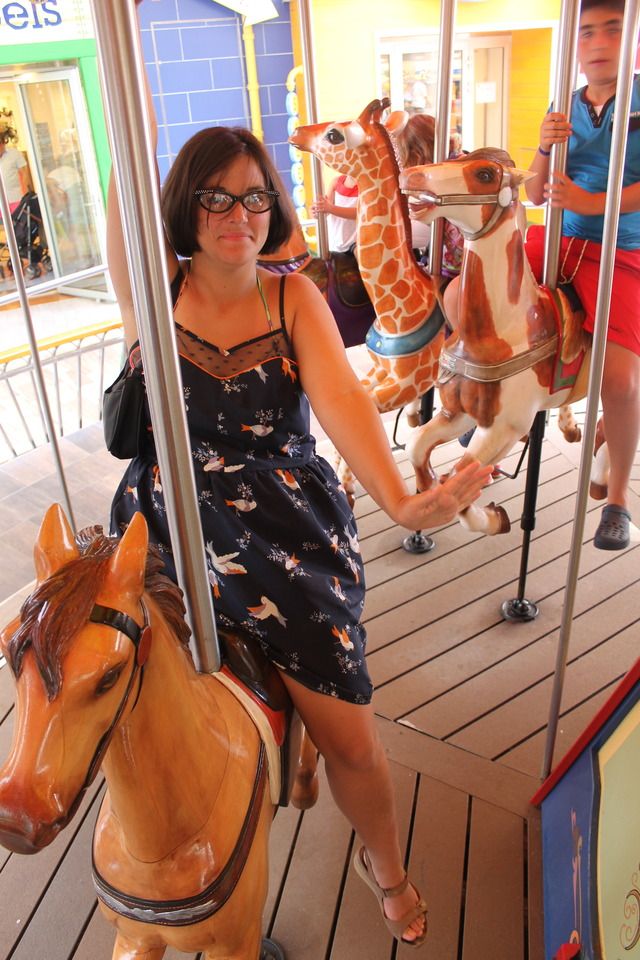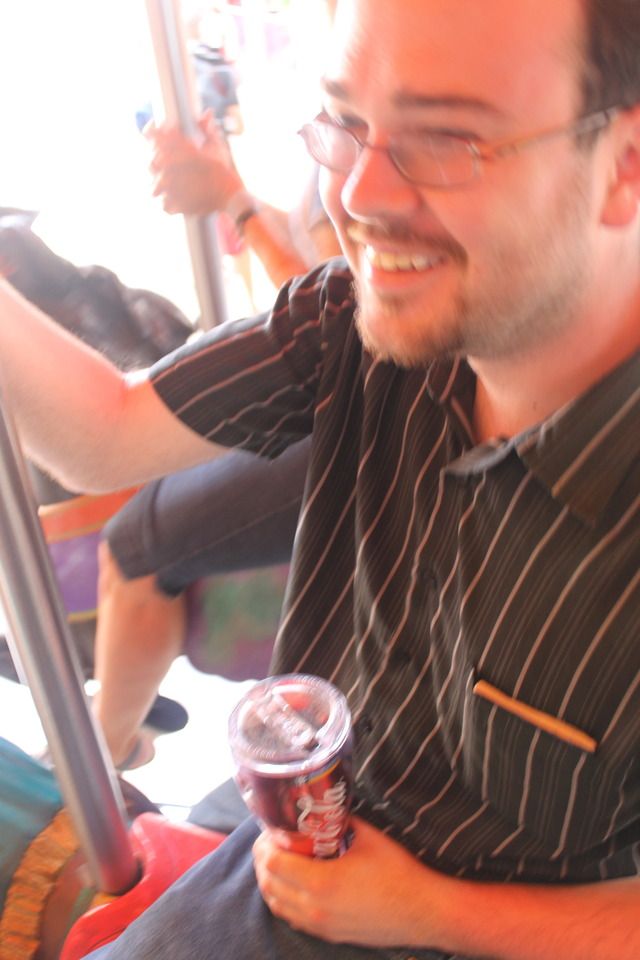 Carousels are a tradition with me and Sarah whenever possible.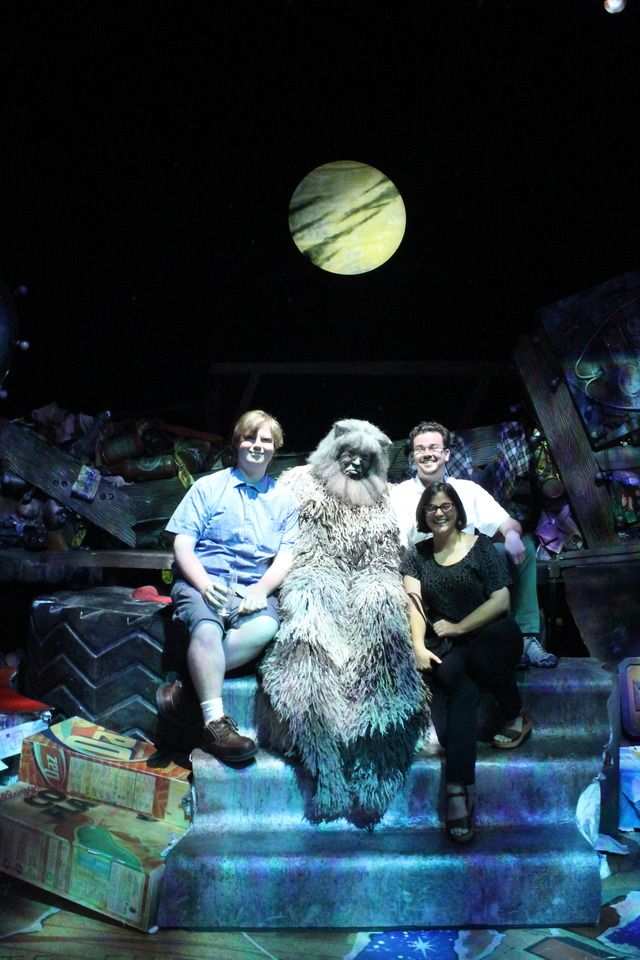 Wilco ruined my wife for all other gifts when he arranged for us to attendant a Broadway performance of Cats the musical. Sarah was anticipating it for months. It was a very intimidate performance, with the performers touching and batting at audience members and moving throughout the theater. During intermission, we all got to take our picture with Old Deuteronomy. Wilco and Sarah speculated about whether the cut songs would be included. Some super fans sitting in front of us confirmed that yes, both cut songs were included. Sarah had never seen Growltiger's Last Stand performed properly, so that was a big deal. Also, after the intermission, a bunch of the people in the audience left for good. The Super Fans speculated it was because they had no appreciation for True Art. We all took the opportunity to grab better seats.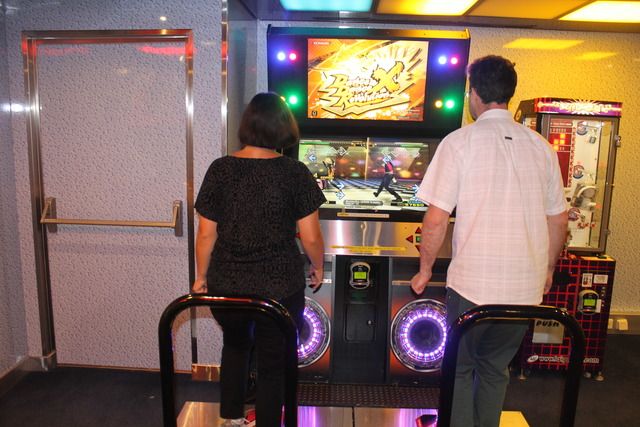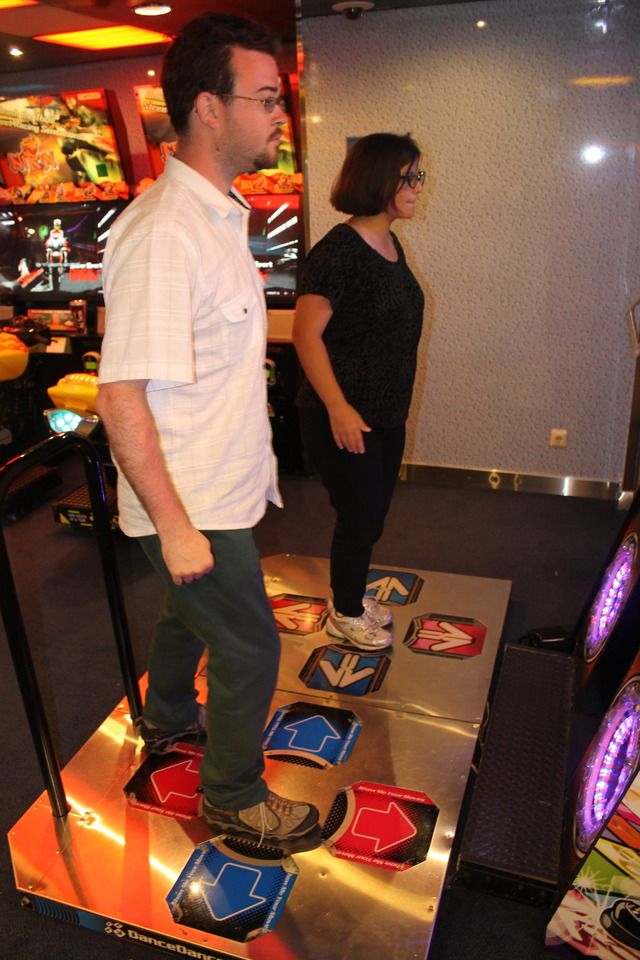 Sarah had not had any Love Live since there was no wifi on the cruise without fees. She challenged Wilco to DDR, and used her new found appreciation for rhythm games in general to stomp him. It was okay though because Wilco won the song called "Trickster," which is all that matters.

Incidentally, this arcade was near the kids' daycare area and it was WAY better than the main arcade. Cheaper and with a better fun time to cost ratio. I got to play Ms. Pacman, and Sarah and Wilco raced arcade motorbikes.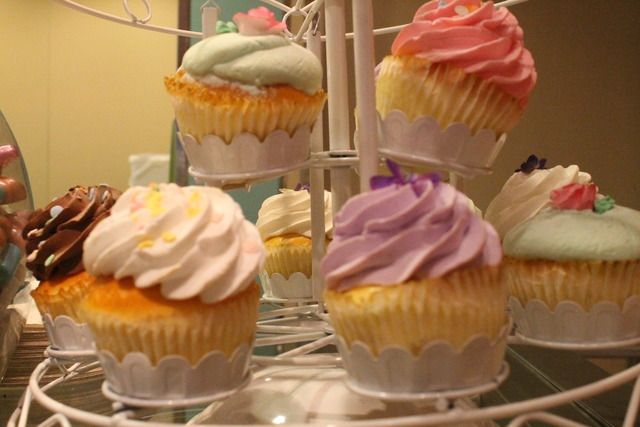 Sarah made a huge deal about how pretty these cupcakes were.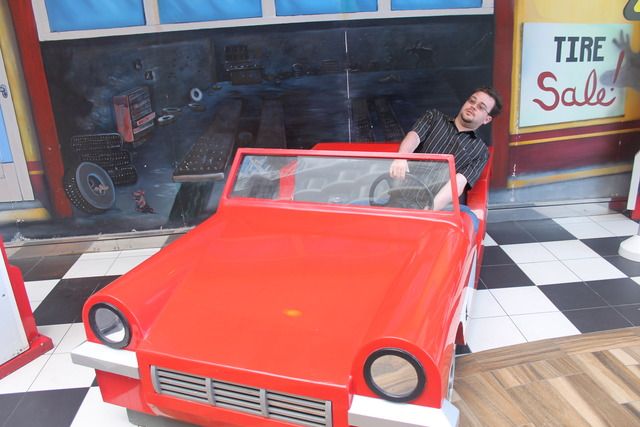 I was massively sun burnt from the cumulative exposure to actual sunlight over the course of the trip.( Especially on my yoyo arm.) Wilco to a lesser extent. We had to power through the pain.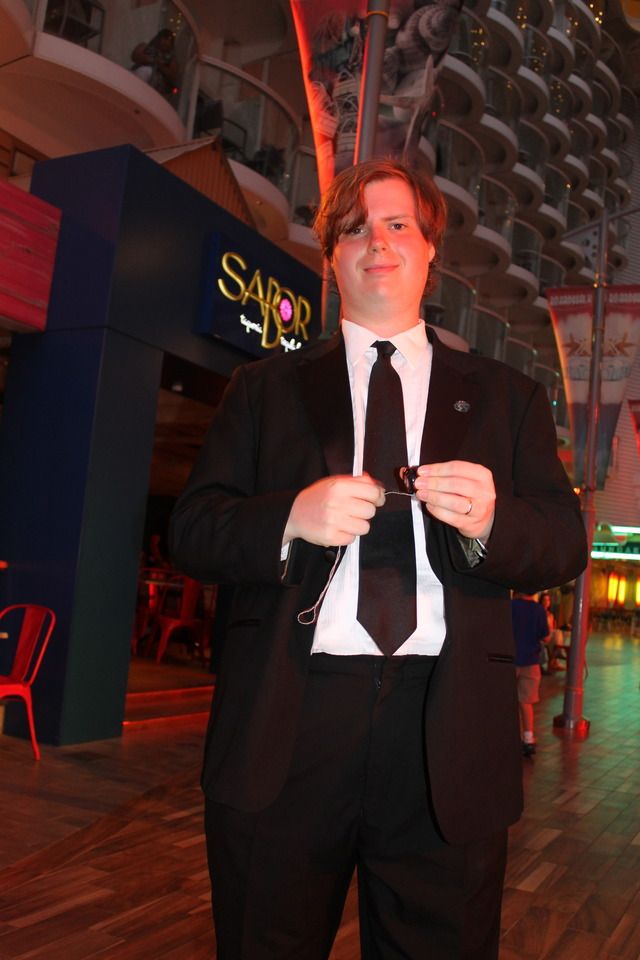 Our last formal night on the cruise was spent at Sabor. It was a disappointing Mexican restaurant. Sarah and I had the HUBRIS to order the sampler menu, which gave us an obscene amount of food. The food was mediocre, and Sarah had pangs of guilt for all the wasted food the meal represented.
The last restaurant we went to was Izumi, a sushi place. Sarah and Wilco shared Saki, I had some exceeding fancy ramen. The décor was super minimalist and classy. This was on our last day, however, so the whole meal felt a bit bittersweet to me.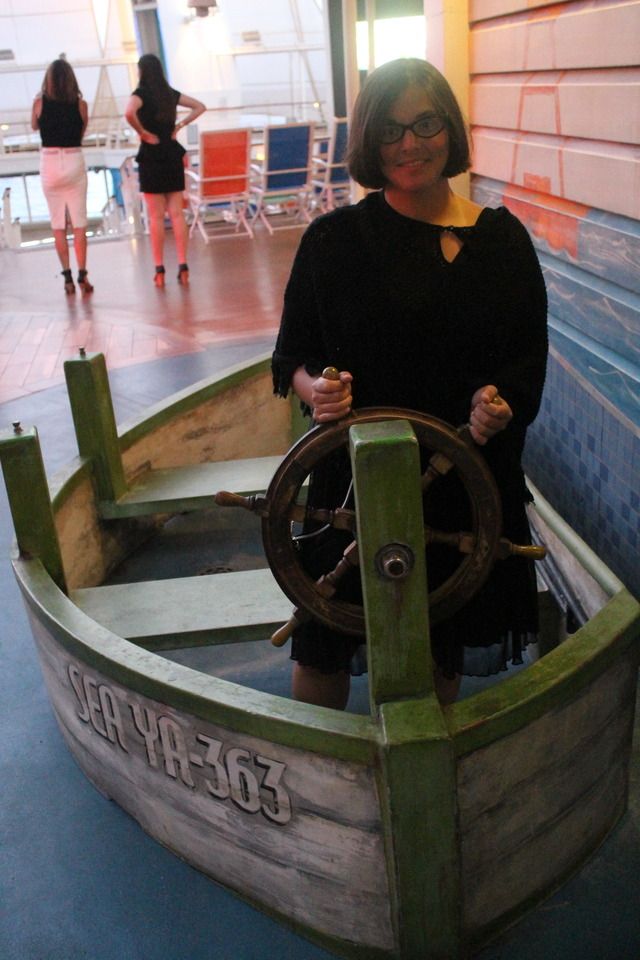 We watched a LOT of cartoons in our final days sailing back to the mainland. Sarah and I discovered the Amazing World of Gumball, which was fun. Cartoon network had a pretty solid selection of cartoons. We also had "Dreamworks Roulette." There was an entire channel playing only Dreamworks animated films on loop. Whenever we had a break, we'd all place a bet for what Dreamworks film we thought was currently playing. The answer was more often than not Shrek 4.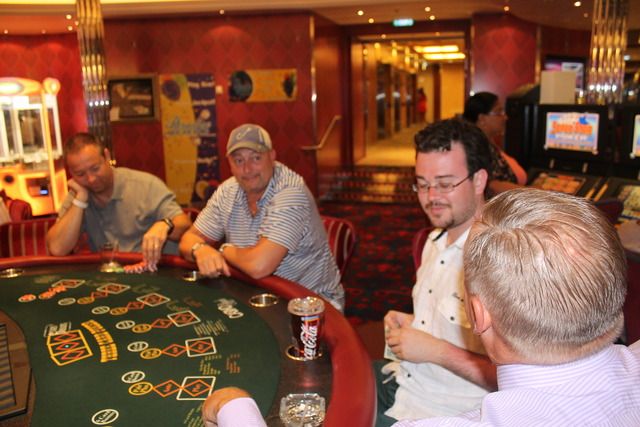 We had one last go at the casino. I gave myself and Sarah 20 bucks each. I went in with the express goal of getting five bucks over my starting funds so I could afford a pack of pokemon cards. We decided to try the Wheel of Fortune machine since Alex had heartily recommended that particular machine line to us. That turned out to be a Mario Kart situation, because Sarah consistently lost on the machine until she went broken. I took the opportunity to bore Sarah about the horrors and ills of gambling. I lost ten bucks on the machine, and then decided to relocate to the penny slots, where I cashed out with 36 dollars total. So between the two of us the casino got a four dollar profit. Not bad for the entertainment. Though Sarah's run was such a downer that she wanted to play more. Which I incorporated into my lecture about the insidious nature of casinos. (While waving my winnings in her face.)

Wilco gave himself 10 bucks to play, since that is what he had in his wallet while we were playing slots. He got up ten bucks, and decided to walk away. Wilco had been tempted to play more poker tournaments, but wisely chose to stay on a high note by walking away with huge tournament winnings. Wilco doubled his ten bucks, which he was happy with. The trick is knowing to stop if you get ahead. He later blew that bankroll trying out three card poker. He got to play for thirty seconds. He was drawn his cards, then told he couldn't play because he didn't draw a queen. Just like that he was down to a five dollar poker chip. He opted to just keep the chip as a souvenir.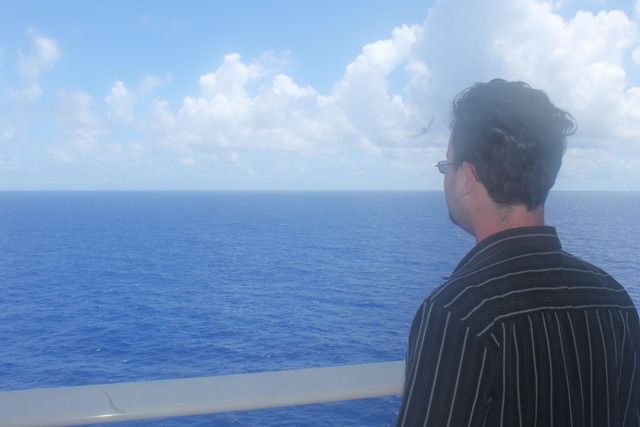 Wilco had an early flight the day we had to disembark, so he had an express walk off. We had breakfast with him, but otherwise it was time to bid farewell to our whirlwind Aussie travel companion. It'd been a fun trip, and I'm sure we wore out our welcome a bit. We were grateful to him for his amazing wedding gift to us. He admitted to becoming homesick. He had another four days to spend at his Ex's place, though, in part because he'd already paid for his circuit of plane tickets. We parted with hugs and fond wishes.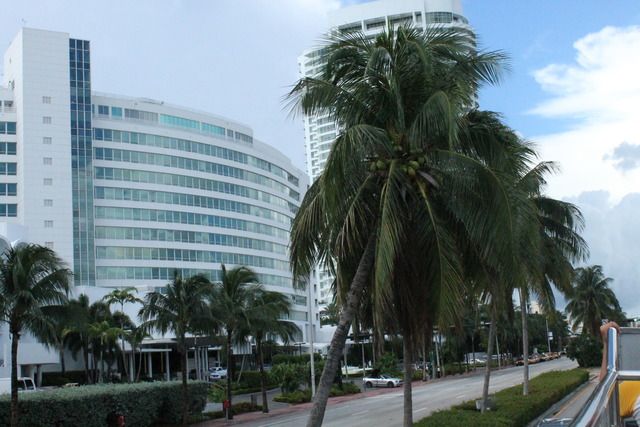 Sarah and I had an extremely LATE flight, so I indulged Sarah by paying for us to receive a bus tour of Miami. This was basically agony for me because I did not care, was badly sun burnt, and coming down with a nasty post cruise cold. (Clearly not enough people had abided by the wash your hands suggestion.)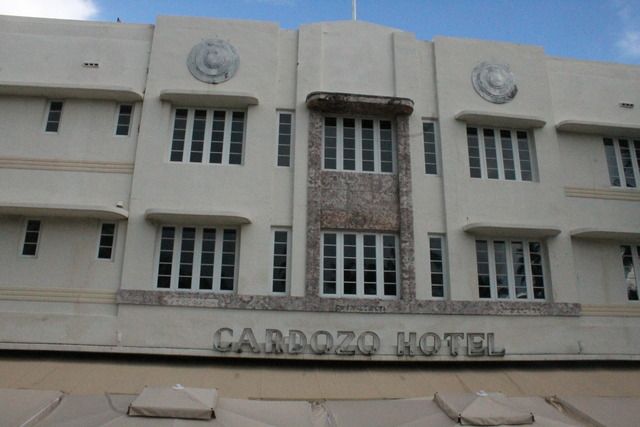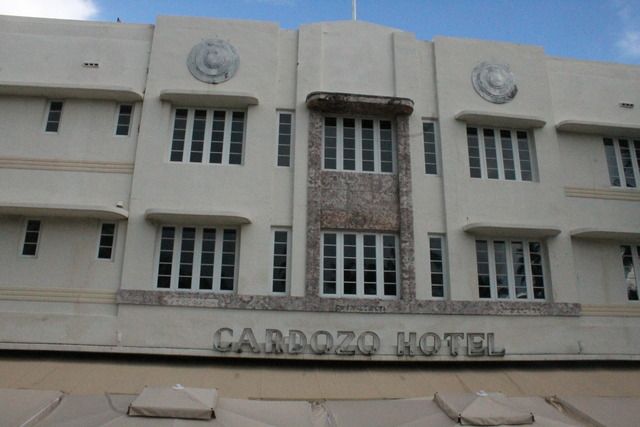 Miami had a lot of historic Art Deco buildings which Sarah approved of. Reminded her of Bioshock for obvious reasons. The tour guide mentioned they could not be torn down by law.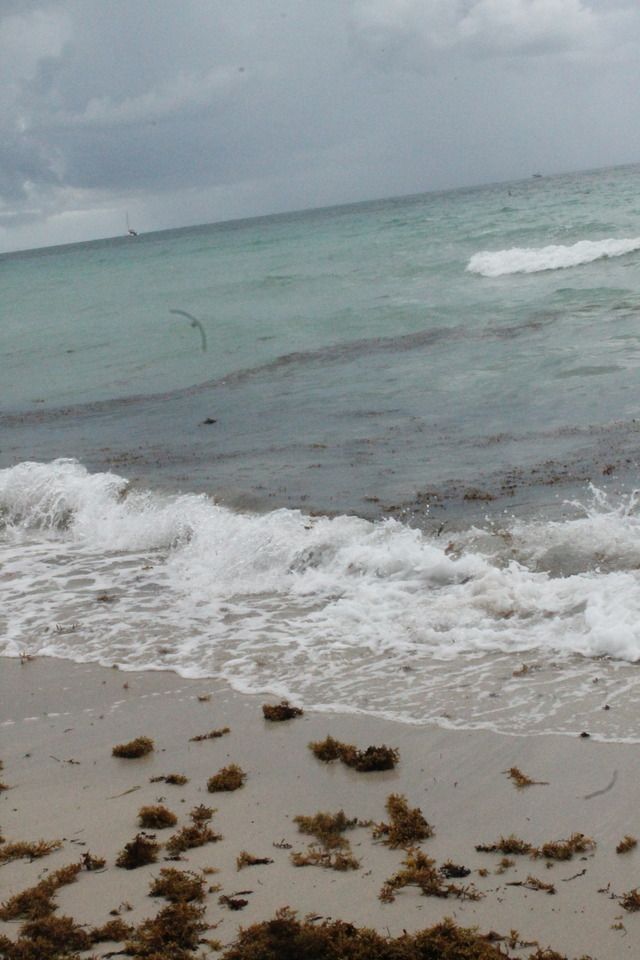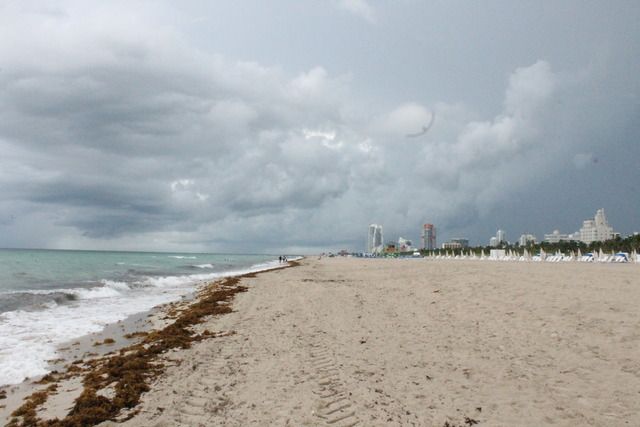 Sarah had us check out the beaches in Miami to contrast with the Caribbean and her State Park beaches back in Texas. Not as crystal clear as the Caribbean, and lots of sea weed.

Sarah and I still had HOURS left at the air port to feel the sinking, dragging hooks of Real Life to pull us kicking and screaming back to reality. We took the last moments of our vacation to carb out on pizza and pasta. We suffered through some anxiety about delayed flights, but ultimately arrived back in Corpus safely.

Stevie Jay gave us grief about not contacting him while at sea (there was no wifi!), but we found ourselves in our own bed around midnight, with Sarah needing to wake up early for work the next day. Vacations over, but we can still dream about the next dorp meet up. Some day, and hopefully soon.